Pound Heads for Best Run in Three Years as Rates Outlook Shifts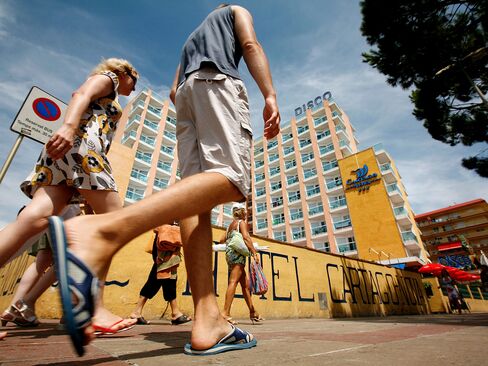 The Bank of England is gaining on the Federal Reserve among investor perceptions of how soon they'll raise interest rates, sending the pound higher for a seventh day versus the dollar in its longest winning run in three years.
Sterling climbed to the highest level in two months versus the U.S. currency. The BOE probably will increase interest rates in 12 months time, four months after the Fed, according to Morgan Stanley indexes. As recently as last month the predicted difference was about 10 months. The yield on U.K. 10-year government bonds rose to a seven-week high as the nation sold 3 billion pounds ($4.6 billion) of gilts due in September 2025.
"Market expectations have shifted in favor of sterling," said Ian Stannard, head of European foreign-exchange strategy at Morgan Stanley in London. "The gap between the first U.S. and U.K. rate hike is closing. That does seem to have supported sterling."
The pound climbed 0.8 percent to $1.5460 as of 4:10 p.m. London time and reached $1.5489, the highest since Feb. 26. The U.K. currency weakened 0.8 percent to 72.13 pence per euro.
A minority of BOE policy makers said the decision to keep interest rates at a record low this month was "finely balanced," according to minutes of the bank's April meeting published last week. The Federal Open Market Committee is set to announce a policy decision Wednesday, with economists having pushed back forecasts for U.S. rate increases amid an uneven recovery.
Sterling extended gains after a report Wednesday showed U.S. gross domestic product rose at a 0.2 percent annualized rate in the first quarter. Data Tuesday showed the U.K. economy expanded 0.3 percent in the first three months of this year.
Shifting View
The shifting view on relative timing is boosting sterling, even as the U.K. is set for its tightest election in a generation. Neither the Conservatives nor Labour are predicted to achieve a majority on May 7, and it's unclear which will have most seats in Parliament. This means that the outcome will probably depend on the support of smaller parties with different political agendas.
Even so, while two-week volatility on the pound against the dollar has jumped to the highest since September, a three-month measure of anticipated price swings was at a seven-week low. That indicated investors were more concerned about stability in the immediate aftermath of the election than over the longer term.
Benchmark 10-year gilt yields climbed 14 basis points, or 0.14 percentage point, to 1.84 percent, the highest since March 11. The 5 percent bond due in March 2025 fell 1.49, or 14.90 pounds per 1,000-pound face amount, to 128.39.
Before it's here, it's on the Bloomberg Terminal.
LEARN MORE