Penn Agrees to Buy Tropicana Las Vegas for $360 Million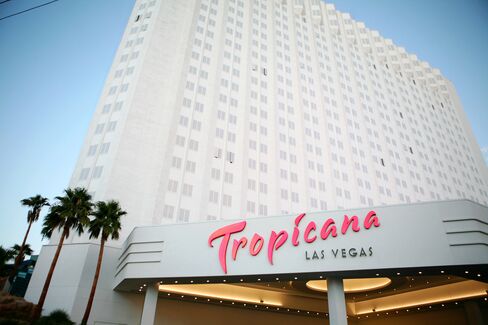 Penn National Gaming Inc. agreed to buy the Tropicana Las Vegas Casino Hotel Resort for $360 million, giving the casino and racetrack operator its first property on the Strip.
Penn National, based in Wyomissing, Pennsylvania, will use existing cash and an expansion of its credit lines to buy the Tropicana from Onex Corp., a Toronto-based private equity firm, according to a statement Wednesday.
Penn National gains a Las Vegas Strip presence with a 50,000-square-foot casino, three restaurants and almost 1,500 guest rooms. The company, which owns 26 casinos and racetracks in North America, has been on the hunt for acquisitions after it split in two in 2013 and placed most of its properties in a publicly traded real estate investment trust.
"Penn has long been searching for a Strip asset at a reasonable valuation that complements its extensive regional casino network," Cameron McKnight, an analyst at Wells Fargo, said in a note Wednesday. "The deal makes strategic sense to us and looks reasonably financially sound if Penn can turn the asset around."
Penn National owns the M Resort, about 10 miles from the Tropicana. However, its customers want a more centrally located Las Vegas spot where they can use loyalty programs for discounts on rooms and benefits, Chief Executive Officer Tim Wilmott has said.
"We've been patient for eight years, looking for the right product," Wilmott said in a telephone interview. "The rooms are in good shape, the public areas are in good shape. We can hit the ground running."
Property Earnings
The Tropicana's previous owners, which include investor Alex Yemenidjian, paid about $250 million for the property and invested another $200 million in renovations, according Joseph Jaffoni, a spokesman for Penn National.
The property produced $109 million in revenue and $3 million in earnings before interest, taxes, depreciation and amortization last year, according to McKnight. He estimates that Penn National will have paid about 10 times Ebitda, assuming it can generate $20 million in operational improvements and $20 million more from marketing the property to its database of 3 million customers.
The company is making its debut on the Strip at an uncertain time for the city. Gambling in Las Vegas -- the largest betting hub in the U.S. -- shrank by 2.1 percent to $6.37 billion last year, halting a four-year recovery. Casino revenue on the Strip fell 9.6 percent to $507 million in March, according the Nevada Gaming Control Board said Wednesday.
The results reflected lower winnings for the casinos and one more weekend in March 2014 than this year, Wilmott said.
"I am still long-term, very bullish on Las Vegas," he said.
More Retail
Penn National said Wednesday it will invest $20 million to improve facilities at the Tropicana and will evaluate other moves, such as expanding retail and restaurant space.
Standard & Poor's lowered the company's debt rating to B+ from BB-, reflecting its belief that the acquisition won't add to, and may subtract from, free cash flow through next year. The rating agency lowered it overall outlook to "negative."
The Tropicana is located on the southern end of the Strip, near MGM Resorts International's MGM Grand Las Vegas. The casino first opened in 1957. It was featured in the "The Godfather," as well as a 1978 episode of the TV show "Charlie's Angels," with singer Dean Martin.
Blackstone Group LP paid $1.73 billion for the nearby Cosmopolitan of Las Vegas last year. Genting Bhd. paid $350 million for an unfinished property on the Strip in 2013.
Shares of Penn National fell 3.9 percent to $16.11 at the close in New York. The stock has gained 17 percent this year.
Before it's here, it's on the Bloomberg Terminal.
LEARN MORE