Norway Wealth Fund Has Record Gain as ECB Feeds Stock Surge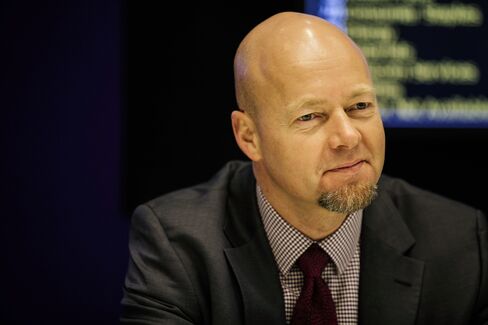 The world's largest sovereign wealth fund gained a record 401 billion kroner ($53 billion) in the first quarter after unprecedented monetary stimulus drove up the value of its equity holdings.
The 5.3 percent increase in the first three months of the year was driven by a 7.5 percent rise in its stock portfolio, the $900 billion fund said in Oslo on Wednesday. Its bonds returned 1.6 percent while real estate rose 3.1 percent.
"There were big price movements in the European market," Yngve Slyngstad, chief executive officer of the fund, said in a statement. "After a weak return on European stocks last year, the market rallied in the first quarter."
Slyngstad said that shifts in monetary policy are now the single biggest driver when it comes to price movements as the quarter's gains allowed the fund to surpass its 4 percent real return target, on an annualized basis, since its inception. He also wants to be free to invest in a broader range of assets, such has infrastructure, as historic central bank stimulus drives down bond yields.
The fund, into which western Europe's biggest oil exporter places its petroleum wealth, held 62.5 percent in stocks at the end of March, up from 61.3 percent in December. Bond holdings fell to 35.3 percent from 36.5 percent and it had 2.3 percent in real estate. Norway mandates it to hold about 60 percent in stocks, 35 percent in debt and 5 percent in properties.
Low Deposits
The government deposited 5 billion kroner into the fund in the quarter, the lowest amount since 1999, according to Slyngstad. Plunging crude have reduced the revenue Norway collects from its offshore fields.
The fund's largest stock holding was Nestle SA followed by Apple Inc. The biggest bond holdings were in U.S., Japanese and German government debt.
Japanese stocks were its biggest gainer, rising 14.5 percent, while European shares, which accounted for 41.2 percent of its equity investments, rose 8.5 percent, the fund said. U.S. stocks returned 5.8 percent and emerging market shares rose 5.9 percent.
The fund boosted its investments in emerging market currencies to 12.9 percent of fixed-income from 12.8 percent. Investments in dollars, euros, pounds and yen were little changed at 78.6 percent of fixed-income holdings at the end of the period. The biggest increases in government bond holdings in the first quarter were in U.S., French and Japanese bonds. The declines were in bonds from the Netherlands, Italy and Brazil, the fund said.
The return in the quarter beat the benchmark set by Norway's Finance Ministry by 0.2 percentage point. Returns are measured in a basket of 34 international currencies.
Before it's here, it's on the Bloomberg Terminal.
LEARN MORE