Nordea First-Quarter Net Rises on Higher Fees, Commissions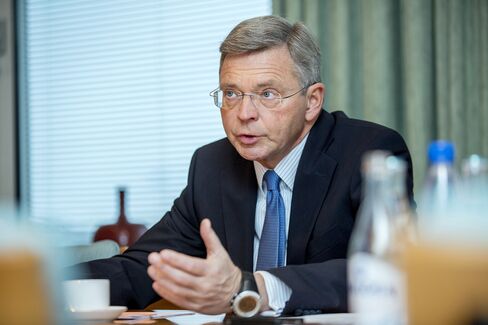 The Nordic region's biggest bank said profit in the first quarter rose 30 percent after fees and commissions increased and loan losses declined.
Nordea Bank AB, based in Stockholm, reported net income of 1.08 billion euros ($1.18 billion) in the three months through March, beating the average 899 million-euro estimate of 13 analysts surveyed by Bloomberg. Net interest income fell 5.4 percent 1.29 billion euros while net fee and commission income rose 7.5 percent to 757 million euros, the lender said. Loan losses declined 23 percent to 122 million euros, it said.
Sweden's biggest banks are struggling to generate income growth from traditional lending as central banks in the region drive policy interest rates below zero. SEB AB Chief Executive Officer Annika Falkengren said last week banks are now operating "in exceptional times" that have "turned economic relationships upside down." Michael Wolf, the CEO of Swedbank AB, said on Tuesday record monetary stimulus has created "extraordinary" market conditions for the financial industry.
Nordea's CEO, Christian Clausen, already last month indicated that negative rates are hurting the bank's profit. In a March 23 interview, he said Nordea had incurred "very significant" costs because of the interest-rate climate. At the same time, low rates have boosted equity markets and banks' fee income while lower borrowing costs mean customers are less likely to default on their loans, a development that has led to smaller impairments across much of the industry.
Capturing Business
"The first quarter was characterized by an increased activity where we have been successful in capturing business opportunities, leading to a strong growth of revenues," Clausen said. "Exceptionally low interest rates put pressure on our net interest margins but also create higher demand for our products and services in other parts of the bank."
Sweden's central bank last month cut its main rate to minus 0.25 percent after the nation suffered recurrent bouts of deflation. Denmark has lowered its deposit rate to minus 0.75 percent to defend its currency peg. Sweden's Riksbank announces its next rate decision at 9:30 a.m. local time.
Clausen in the March 23 interview pledged to raise Nordea's dividend ratio to more than 70 percent of profit despite negative rates putting pressure on earnings. He said then that "also for 2015, we will have a higher payout ratio." Though the bank in January reiterated its target of paying more than 40 percent of its net income to shareholders, it will return with more precise goals later this year, Clausen said in March.
Dividend Goals
Nordea on Wednesday said it will present new financial targets for the period 2016 to 2018 at a capital markets day in London on May 27. The bank has been boosting its dividend ratio, and reached 70 percent for 2014, when excluding impairments of intangible assets, versus 44 percent for 2012.
Svenska Handelsbanken AB, Sweden's biggest bank measured by the number of branches, said on Wednesday first-quarter profit rose 0.1 percent to 3.91 billion kronor ($459 million) from a year earlier. Net interest income rose 4 percent to 6.92 billion kronor while net fee and commission income gained 12 percent to 2.31 billion kronor.
"Higher business volumes and higher lending margins increased net interest income," the bank said. "The positive effects were offset by the fact that deposit margins in Sweden and interest income related to equity decreased" due to declining short-term interest rates in Swedish kronor, it said. Net fee and commission income rose "mainly as a result of higher asset management and payment commissions."
Before it's here, it's on the Bloomberg Terminal.
LEARN MORE