NFL Stems Rising Tide of Not-Ready-for-Prime-Time Underclassmen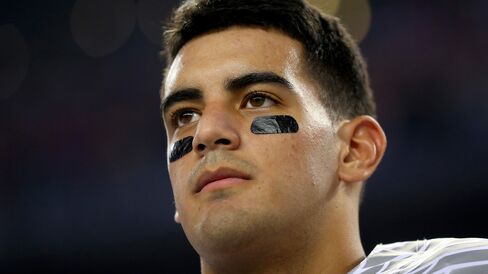 The number of underclassmen entering the National Football League draft jumped 85 percent in the four years after the introduction of a rookie wage scale in 2011. The NFL took steps to stem that rising tide this year.
After a record 98 college juniors and sophomores sought to turn pro in 2014, the NFL cut back its evaluation process. It's led to a 25 percent decline, resulting in 74 non-seniors -- including potential top picks Jameis Winston and Marcus Mariota -- entering this year's three-day draft, which begins Thursday night in Chicago.
It's an encouraging and necessary reduction, said NFL executive vice president of football operations Troy Vincent, who said he was concerned about the increasing number of players who ended up without NFL jobs after giving up their remaining college eligibility.
"You had more wanting to declare and less of them were getting drafted or signing as free agents," Vincent said in a telephone interview. "That's where the real dilemma came in."
The NFL instituted its rookie pay scale in 2011, the year after quarterback Sam Bradford -- the top pick in the 2010 draft -- got $50 million in guaranteed money before ever throwing a pass for the St. Louis Rams. By comparison, last year's top pick, Jadeveon Clowney of the Houston Texans, got a four-year deal worth a guaranteed $22.3 million.
Even though less guaranteed money was available for rookies after 2010, more underclassmen turned pro. In addition to restricting pay, the rookie wage scale limited contracts to four years, meaning players could cash in more quickly with a second deal if they performed well. As a result, some agents convinced players with NFL aspirations to turn pro sooner, said NFL Network draft analyst Mike Mayock.
Second Contract
"A lot of kids bought into it," Mayock, a former New York Giants safety, said by telephone. "While it may be advantageous to a few, it's hurt the many. There's a lot of kids that think they're getting drafted in the first three rounds and don't. It's easy to say, 'Hey, let's just get you to that second contract.' The problem is getting there."
In 2011, a then-record 56 underclassmen declared for the draft and 23 percent went undrafted.
A year earlier, before the rookie wage scale was introduced, just 13 percent of eligible juniors and sophomores weren't selected in the seven-round draft.
The number of draft-eligible underclassmen was 65 in 2012 and then climbed to 73 and 98 the past two years. Of those, 37 percent weren't drafted a year ago.
NFL's Changes
"You saw the numbers and you go, 'Wait a minute,'" said Vincent, a former Pro Bowl cornerback who joined the league office in 2010 after spending four years as president of the NFL Players Association. "By no means is anyone trying to prohibit or stop a young man from living out his dreams, but when you start talking about the numbers we're seeing, you say, 'What can we do better to properly inform?'"
The NFL this year implemented several changes, including setting a limit of five non-seniors per college who can request information from the draft advisory board. With no previous limit, some schools would submit 10 or 11 underclassmen for review even though Vincent said there's "not an institution in the country" that had that many ready for the NFL.
The most significant alteration, though, was in how underclassmen are graded.
Grading Categories
Previously, there were five categories: the potential of being drafted in the first round; as high as the second round; as high as the third round; no potential for the first three rounds, and the likelihood of going undrafted.
University of Alabama coach Nick Saban said players drafted in the fifth or sixth round have a 25 percent chance of being in the NFL when it's time to negotiate a second contract.
"Your chances of making the team are not nearly as good as a first-, second- or third-round draft pick," Saban said last year after Alabama had 10 underclassmen request draft grades. "If you stayed in school, you'd have a much better chance of becoming one of those guys by improving, developing and playing more, rather than taking that gamble you will be able to sustain a career by being not a high draft pick."
While the NFL's draft grades had an accuracy of 80 percent to 90 percent for the first two rounds, it fell to between 40 percent and 50 percent after that. The "discomfort" of that, Vincent said, led the NFL to limit underclassmen grades to three categories: first round; second round, or neither, which amounts to advising the player to remain in college.
NFL Stamp
"If a young man has only a 40-50 percent or below opportunity, I'm not sure that's where we wanted to be as the NFL giving the stamp of approval," Vincent said. "If he declares, he loses his eligibility, he loses his education. Some of the young men can come back to school, but in most cases, you can't go back and finish."
In Mel Kiper Jr.'s mock NFL draft on ESPN, the projected top five picks are all underclassmen, with Winston, a sophomore, going to the Tampa Bay Buccaneers at No. 1 and Mariota, a junior, taken second by the Tennessee Titans or another team that trades up to select him.
Kiper projects 22 of this year's 32 first-round picks to be either sophomores or juniors. That group also includes USC defensive end Leonard Williams, Alabama receiver Amari Cooper, Florida defensive end Dante Fowler Jr. and Central Florida receiver Breshad Perriman -- all juniors and all potential top-10 picks.
The NFL's concern, though, isn't the underclassmen who are potential first- or second-round picks.
It's the others who probably won't get drafted or signed as a free agent, and giving them the proper guidance, said Vincent. The number of underclassmen requesting official NFL evaluation dropped 30 percent this year, to 149 from 214. Of those, 123 -- or 82.5 percent -- were advised to stay in school.
"We're encouraged," said Vincent, adding that the NFL's evaluation process for underclassmen could be tweaked further in the future. "This progress means that student athletes are making more informed decisions."
Before it's here, it's on the Bloomberg Terminal.
LEARN MORE