Mexico Financial Hub Faces Office Glut After Oil Plunges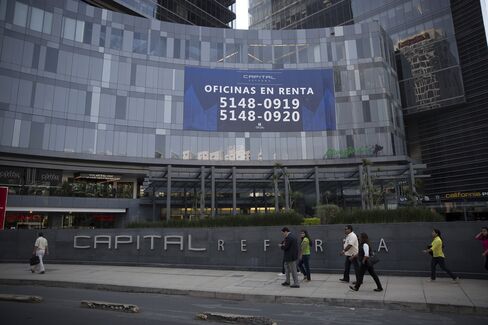 The twin towers of Capital Reforma rise above Mexico City's priciest district, where monuments to independence and an Aztec emperor dot a boulevard shrouded in trees. It's also where investors made a big bet.
Three years after opening, the 27-story glass towers across from the Mexican Stock Exchange are about half empty. A large "For Rent" sign disrupts their sleek façade.
Capital Reforma is part of a decade-long building spree that threatens to leave Mexico City with a large surplus of office space as the fall in oil prices undermines the economy. The new buildings, repaved streets and gardens have revitalized this historic financial district, bisected by Paseo de la Reforma -- a boulevard designed to resemble Paris's Champs Elysees. Now investors in the new real estate investment trusts that financed the towers face the prospect of higher vacancies and lower returns.
"The office sector in Mexico City is not attractive from our firm's view as an international investor because it doesn't seem to offer an appropriate risk-adjusted return," said Onay Payne, director at Clarion Partners, a New York-based real estate investment manager with $32 billion under management. "There's a lot of supply coming onto market, and it's not clear how quickly and by whom that space will be absorbed."
Sluggish Demand
At least 10 skyscrapers are under construction in the district, expanding total office space by about 40 percent in the next 3 years, according to broker Cushman and Wakefield. About 336,000 square meters (3.6 million square feet) of new space will be available by 2018, a record, according to broker CBRE.
The buildings are approaching completion as a faltering economy saps demand for them. The 44 percent plunge since June in Mexican crude, which provides the government with a third of its revenue, is damping economic growth. Petroleos Mexicanos, the state's oil producer, announced in January that it was cutting 10,000 contractor jobs. The central bank lowered its 2015 outlook for growth a second time in February, to 2.5 percent to 3.5 percent.
"The problem in Mexico is sluggish demand," Morgan Stanley analysts wrote in July. That will likely push down rents, making it harder for developers to repay their debt.
Fibra Uno, Mexico's biggest REIT, would be among the biggest losers from a drop in rents, the analysts said. Launched in 2011, Fibra Uno led Mexico's move into REITs, with as many as nine trusts operating today. As low interest rates in the U.S. and Europe drove investors to look for better opportunities in emerging markets such as Mexico, Fibra Uno swelled in size.
Fibra Uno
Fibras have ``raised a lot of capital in the last nine months so they are under pressure to invest," said Guillermo Silberman, vice president in the investments department at New York-based REIT W.P. Carey Inc., who focuses on Latin America. "There's a lot of liquidity across the world given low interest rates and low yields now. That search for yield has led to Mexico."
In 2012, Fibra Uno bought a 49 percent stake in the 12-year-old Torre Mayor complex, which houses BlackRock Inc. and Barclays Plc, for $100 million. The development, which kicked off the financial district revival, is fully occupied today.
The REIT also paid $1.4 billion for a 30-property portfolio in 2012 that included development of the 49-floor Torre Reforma Latino, which will have 484,000 square feet of leasable space when it's completed next year. And the company contributed $50 million to a joint venture that's erecting the 33-story Torre Diana, also set for completion in 2016.
Tax Breaks
Of the 60,000 square feet to become available in the area from now until 2017 in which Fibra Uno has invested, only between 6,000 and 7,000 square feet has been pre-rented through a binding agreement, said Gonzalo Robina, deputy chief executive officer of Fibra Uno.
"I'm not saying that I'm overly optimistic and that everything is booming, but it's a question of timing," Robina said in an interview. "Am I seeing the big oil companies rushing in like crazy? No. We see clients will be the same tenants we've known for 15 years that are growing and want to relocate."
Fibra Uno shares have fallen 11 percent since July to 39.81 pesos, down from its high of 48 pesos two years ago. The benchmark IPC index of 35 Mexican stocks has returned 5.8 percent in the same period.
In 2002, officials began to restore the Paseo de la Reforma area, which suffered heavy damage from the 1985 earthquake, and offered decade-long tax breaks to developers. HSBC Holdings Plc, St. Regis hotel and New York Life Insurance Co. moved into the new towers, some returning from of far flung suburbs.
BBVA Bancomer
Brokers point to the 50-story Torre BBVA, which will be the tallest tower in Mexico City when it's completed this year, as a sign of the strength of the market. BBVA Bancomer, Mexico's biggest bank by outstanding loans, is financing the building and will fully occupy it.
"The market is working," says Lyman Daniels, president of real-estate company CBRE Group Inc.'s operations in Mexico. If buildings are not fully occupied "it could be because the building has not been marketed properly."
The vacancy rate in the district has been volatile, bouncing from 2.5 percent in 2009 to 22 percent two years ago before dropping to 12 percent in 2014, according to CBRE. It projects a rate of 18 percent by 2017.
Augusto Arellano, head of real estate investments at Evercore Partners Inc., said developers are not going to easily lower their rents even if they face oversupply.
Stable Rents
"Rents in dollars in Mexico have remained stable for over 15 years," he said. "They've not risen in spite of the fact that the cost of construction and the cost of land have both risen, which means profits for developers have slimmed. The sensitivity to rent for less is very high."
Capital Reforma is only 52 percent occupied partly because one of its towers was designed for a hotel that pulled out of the project in 2009. The low ceilings make the rooms less appealing as office space.
The threat of more vacancies in the area is keeping Fibra Macquarie, a REIT that invests in Mexico, away.
"We make very careful acquisitions and always look into the supply-demand relationship," said Chief Financial Officer Jaime Lara. "We prefer to invest in property that has a high level of occupancy."
Before it's here, it's on the Bloomberg Terminal.
LEARN MORE