Mediaset Says Vivendi Is Potential Partner, Company Not for Sale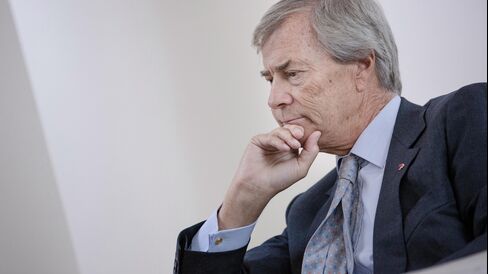 Mediaset SpA sees opportunities in collaborating with Vivendi SA, although the Italian broadcaster controlled by former Prime Minister Silvio Berlusconi isn't for sale, according to a top executive.
Paris-based Vivendi is a "good potential partner" for premium content in the medium-to-long term, Mediaset Deputy Chairman Pier Silvio Berlusconi said after a shareholders' meeting held in Cologno Monzese near Milan on Wednesday. There are no concrete plans at this stage, he added.
There was no discussion generally about control of Mediaset, because the company "isn't a seller," Berlusconi said. He also said he met media tycoon Rupert Murdoch recently for a "normal business meeting."
Mediaset has emerged as a potential target as Chairman Vincent Bollore looks to deploy Vivendi's 15 billion-euro ($16.7 billion) cash pile to build its presence in southern Europe. Options include Vivendi taking a significant investment in Mediaset or its pay-TV unit called Premium, people familiar with the matter said this week.
Mediaset is also studying new services with Telefonica SA, Fedele Confalonieri, the Italian company's chairman, said during the annual meeting.
"We are thinking about so-called triple, quadruple play offers," Confalonieri said, referring to combined pay-TV, fixed, mobile phone and ultra-fast Internet services.
Mediaset, which competes with Murdoch's pay-TV provider Sky Italia, is cutting costs while boosting spending on programs to lure customers to its offering. As part of its strategy to gain exclusive content, a year ago Mediaset beat Sky Italia by bidding about 700 million euros for the rights to broadcast soccer's UEFA Champions League for the 2015-2018 period.
Mediaset shares fell 0.9 percent to 4.67 euros at 4:43 p.m. in Milan. The company has a market value of 5.5 billion euros.
Before it's here, it's on the Bloomberg Terminal.
LEARN MORE