It's Always a 'Great Quarter, Guys!' If You're an Equity Analyst
Almost every quarter is a great quarter, guys.
The earnings conference call is a routine of corporate America. Companies post financial results, and financial analysts dial in to the conference call.
From 2007 through 2014, analysts told companies "Great quarter, guys," on 1,265 of the calls. Bloomberg tracked how many companies were told what a fine job they did, then compared it to the Standard & Poor's 500 Index for the quarter when the results were reported.
While it was very often a great quarter, guys, it wasn't always as great in the broader market.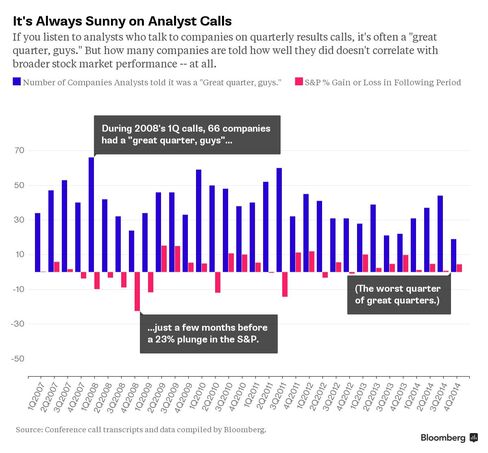 In fact, the best quarter ever, guys, was the first quarter of 2008, a few months before the market crash that erased about half of the S&P's value from September 2008 to March 2009.
The worst quarter of great quarter, guys, was the fourth quarter of 2014. Only 19 companies were told how well they did, less than a third than in the early days of 2008.
What Does It Mean? Who Knows
Equity analysts have a tendency to be positive. Out of 12,031 current ratings on S&P stocks, only 6.9 percent are to sell, vs. 48 percent rated buy and 45 percent rated hold, according to data compiled by Bloomberg. That's almost unchanged from a year ago.
"It has to do with access," said Les Funtleyder, a health-care portfolio manager at E-Squared Asset Management, who's been both a buy- and sell-side analyst. "Companies prefer to deal with people who they feel are on their side. Analysts want to be liked by management, so they can get more information."
Some are self-aware. "Don't mean to be cheesy, but that was a very good quarter," Eric Selle, then a debt analyst with JPMorgan Chase & Co., said in 2009 after Ford Motor Co. reported a smaller-than-expected loss. "I know everybody hates when analysts say that."
Selle, now a managing director with SunTrust Robinson Humphrey, hates it too. "It's like everyone getting a medal in soccer," he said in an interview. "It's the most embarrassing thing to say as an analyst."
Ford deserved it, though. "They were coming back from the dead," Selle said. "I had to pause and say, guys, actually, it was a really good quarter."
It's not just about great quarters, though. There are deals to be lauded.
'Congrats on the Deal!'
While the U.S. has been in a record period of mergers-and-acquisitions activity — with $4.1 trillion in proposed, pending, or completed deals in the last two years — it was also high time for congratulations. Two hundred twenty-one companies were told, "Congrats on the deal, guys" or some iteration, by analysts.
They didn't always deserve it.
Of 30 deals that were struck in the first part of 2013 where analysts said congrats, a third of the companies had negative stock returns after the transactions closed. Half didn't beat the S&P over the same period.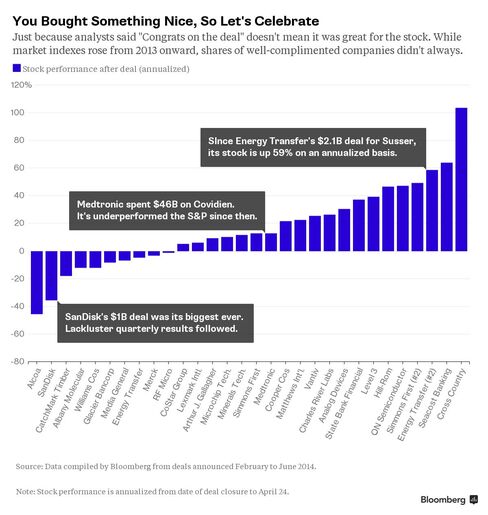 RF Micro Devices Inc. and TriQuint Semiconductor Inc. announced they'd merge in February 2014, and turned into Qorvo Inc., a $10 billion technology company. Nine different analysts congratulated them during the call discussing the deal.
Since the merger closed this January, the stock is down 0.4 percent. The Russell 2000 Index, of which Qorvo is a member, is up about 4.5 percent in the same period.
It's not all bad news, though. Cross Country Healthcare Inc. isn't a big company — only about $360 million in market capitalization. When it agreed to buy Medical Staffing Network Holdings Inc. in June, only one lonely analyst said congrats.
Cross Country's shares, though, are up 78 percent.
Congrats, guys. Have a great quarter.
—With Joseph Ciolli
Before it's here, it's on the Bloomberg Terminal.
LEARN MORE