Iran's Zarif Softens Tone on Sanctions Steps After Nuclear Deal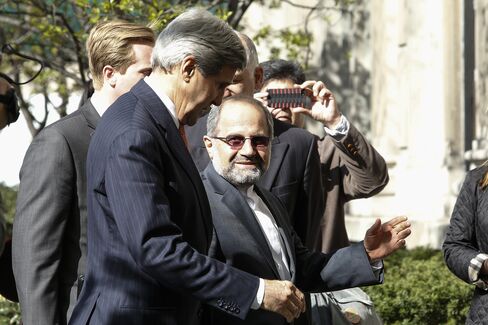 Iranian Foreign Minister Mohammad Javad Zarif acknowledged that U.S. sanctions may remain on statutes after a nuclear deal even as their enforcement is lifted, softening the Islamic Republic's position as talks resume.
An agreement by the June 30 deadline would be followed "within a few days" by a United Nations Security Council resolution which "will terminate all previous resolutions including all sanctions and will set in place the termination of EU sanctions," Zarif said in a speech at New York University on Wednesday.
The resolution will also lead to "the cessation of applications of all U.S. sanctions" as the U.S. agrees not to enforce them, Zarif said.
In the past Iranian officials demanded that all sanctions be lifted once an agreement is signed. U.S. officials said last month that relief will come in stages and not all sanctions legislation can be removed.
Opposition from senators such as Arkansas Republican Senator Tom Cotton can't stop the process, Zarif said. The new Security Council resolution would be "mandatory for all member states, whether Senator Cotton likes it or not," Zarif said.
Cotton was the author of an open letter signed by 47 U.S. senators to the Islamic Republic's leadership, warning that Congress could dismantle a deal with Iran. The Senate is debating legislation that empowers Congress to review any agreement.
The latest round of nuclear negotiations will begin in New York on Thursday.
Before it's here, it's on the Bloomberg Terminal.
LEARN MORE