iPhone Maker Seeks $1.7 Billion in U.K. for Work in Clean Energy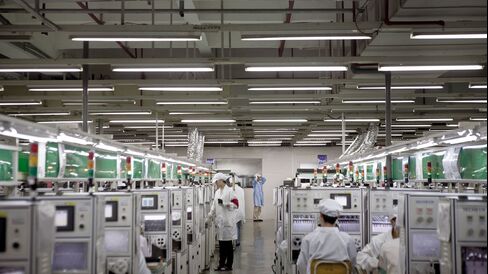 Foxconn Technology Group is in talks with U.K. investors to raise about $1.7 billion for green initiatives as the maker of iPhones boosts work on projects designed to save energy.
Installation of solar farms, LED lighting and more efficient air conditioning are among Foxconn's plans to make its operations in China more environmentally friendly and to cut costs, said Allen Wang, director of international business development at unit Shenzhen Fox-Energy Technology Co.
Foxconn, which expects to commence installation for the first of its solar-electricity farms this year, joins global technology giants including Apple Inc. and Google Inc. in backing renewables and other green initiatives. Foxconn has already doubled its return on more than 700 million yuan ($113 million) of energy-efficiency projects that it self-funded over the past four years, Wang said in an interview.
"Even if we have the technology, the personnel, and even the project, the critical factor has always been the financing because we're talking about a tremendous amount of money," Wang said in an interview in Shenzhen.
Investors would put money into a central fund that will cover the capital costs for projects managed by Foxconn Group. Those include solar farms, replacing air conditioning systems and efficient lighting systems. Returns would come from the lower power costs or revenue from electricity sales, Wang said.
Debt and Equity
Hon Hai Precision Industry Co., Foxconn's largest listed unit and the maker of iPhones, added 0.4 percent as of 11:29 a.m. in Taipei, taking its advance for the year to 5.2 percent. The company had NT$679 billion ($22 billion) in cash at the end of December.
Funding may come from debt, equity, or both. Foxconn is already in talks with a U.K. counterpart that specializes in raising money for green funds, he said, without giving further details. He declined to say whether Apple, which this month announced a 40-megawatt solar project in China, is involved in the Foxconn funding.
"There are plenty of complications with this Foxconn idea, including protecting investors from corporate, project and foreign exchange risks," said Angus McCrone, a senior analyst at Bloomberg New Energy Finance in London.
"In the U.K., the Green Investment Bank has spearheaded energy efficiency project lending, including to local councils for street lighting and hospitals for combined heat and power, and brought private sector capital with it," McCrone said. "It could be that this knowledge of structuring deals is why Foxconn has come to the U.K. market looking for investors."
Business Model
Fox-Energy plans to use a business model known as Energy Management Contracts, which rely on outside investors to fund the upfront costs and then share in the financial returns, Fox-Energy's Wang said.
Each individual business group at Foxconn will need to apply to the central fund for money to support energy-saving projects. Those groups are given financial incentives to be proactive in forming green initiatives.
Installation of Foxconn's first 100 megawatt solar farm is due to commence this year as the company rolls out a five-year plan for 2 gigawatts of photovoltaic generation capacity, Wang said. It's also planning to spend 1.83 billion yuan to put 244 megawatts of capacity on campus rooftops and has already installed 45.7 megawatts, he said.
It's projecting a cost of 800 million yuan per 100 megawatts for the farms. Government subsidies are a key part of the business model, he said.
"We're still a business," Wang said. "If we get into renewables it has to make economic sense."
Before it's here, it's on the Bloomberg Terminal.
LEARN MORE