Bruno Loubet is top banana when it comes to healthy eating.
The French chef shunned meat-centered cuisine at Grain Store, his second London restaurant, when he opened it two years ago. It felt like a bold move then to build each dish around a vegetable. It has paid off. Each week, the casual King's Cross venue serves as many as 3,000 diners with creations such as chili con veggie, where ground mushrooms replace the beef.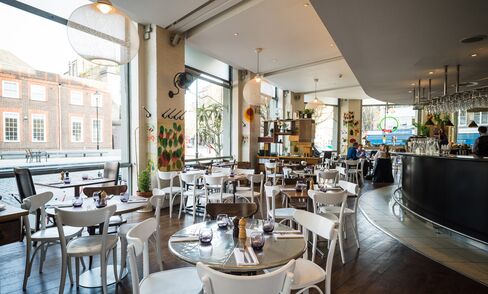 This isn't strictly vegetarian cooking: Meat can be found in some dishes, but it's like a minor actor hanging around upstage while the vegetable hogs the limelight, getting all the love and attention.
Now the chef has gone a step further, replacing his original Bistrot Bruno Loubet—known for meaty dishes such as hare royale—with Grain Store Unleashed. If Grain Store is Loubet's diffusion line, this new establishment in Clerkenwell is couture. It's Prada to Miu Miu; Calvin Klein to CK; Alexander McQueen to McQ; Laurel to Hardy—wait, what was I saying?
The dishes are tailored to the ingredients at hand. Some are herbs that Loubet has picked while walking in the countryside near his home. He's growing vegetables in his garden that may end up on your plate.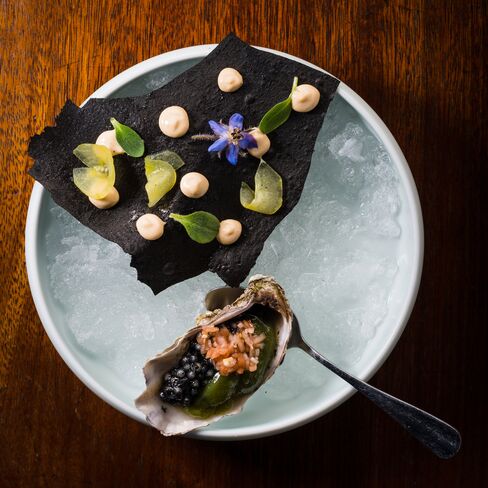 None of this really matters if the food doesn't taste good. I'm an unreconstructed carnivore and don't get a buzz when I see menu items starting with words such as "kohlrabi and broad beans"; "light celeriac and hay mousse"; to say nothing of a dessert whose name begins ominously with "parsnips."
And yet I could be convinced. I'd put Loubet among the top-five chefs in London for creativity. His dishes are originals, and there's no overlap with the original Grain Store, where the average cost of dinner is about £30 ($46), compared with £50 at the new restaurant.
Starters include a playful vegetal oyster and caviar dish at £6.50. The oyster is actually made with liquidized cucumber along with borage and oyster leaves, set with agar, a gelling agent made from seaweed. The caviar is tapioca cooked in a fish stock with squid ink. This is served in a shell and carries the salty taste of the sea without involving mollusks.
OK, I'd rather gorge on a plate of big, fat, living oysters, but this imposter is light and fresh and comes with a crisp potato wafer topped with cod roe (yes, from a fish), seaweed powder, and pickled cucumber. It is not short on flavor.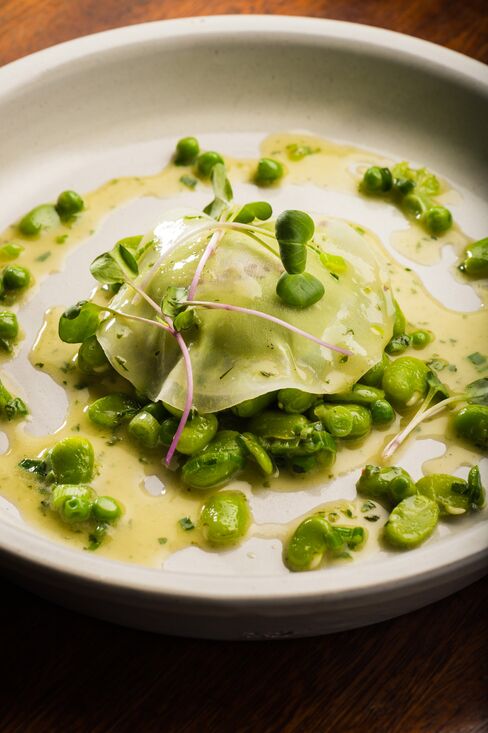 The playfulness continues with ravioli, where the pasta is replaced with thin slices of kohlrabi (a cabbage relative), lightly cooked so they have bite, without being too crunchy. The pockets are filled with a custard of broad beans and tofu and served on a ragu of spring peas, broad beans, and wild garlic.
This dish has the color of spring, while the flavor is like a piece of music where you can pick out each individual element while appreciating the harmony of the whole. I'm thinking Ralph Vaughan Williams, but you could substitute John Lennon (Give Peas a Chance?).
Back to my greens. One of the simplest dishes is also one of the best: asparagus in brown butter, pomelo, and bronze fennel. The asparagus is lightly cooked to order, its natural flavor enhanced by the sweet and nutty butter and a hint of citrus from the pomelo. Who knew vegetables could be so seductive?
If you're looking for crazy, there's a dessert of parsnips and white chocolate cream, matcha tea, pink grapefruit and passion-fruit gel, with caramelized puffed oat.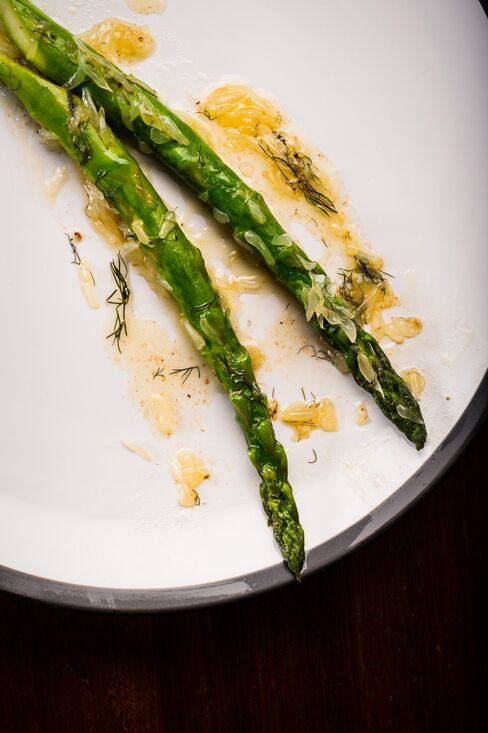 I'm not sure I really like that hint of vegetable in a sweet dish. But here, the mellow flavors are balanced with the sharpness from the gel/jam, and there's texture from those wannabe Quaker Oats. Still, I'm more likely to go for something more conventional, such as the lemon and strawberries petit pot with rosemary crumble.
Grain Store Unleashed is charming, with friendly and informed service and a wine list so good that I'm writing about it in a sidebar below. Loubet is doing a great job here—you can see him leading the kitchen each day. But this is the difficult second album. Naturally it lacks the shock and awe of the original.
Dinner service is tasting-menus only. They're a great value at £28.5 for four courses; £34.5 for six; and £39 for eight. I live nearby and shall visit often. While I miss the bigger menu and wider choice of the first Grain Store, I'm thinking about changing my mind.
I shall be unleashed.
Grain Store Unleashed is at 86-88 Clerkenwell Road, Zetter Hotel, London, EC1M 5RJ; +44-20-7324-4455 or http://www.grainstoreunleashed.com/.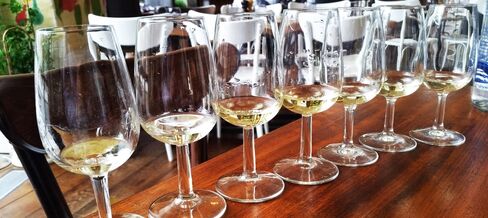 Wines by the Glass
Ever sit in a restaurant looking at a bunch of wines by the glass and wish you were with an expert who could assess the different options and advise you? During a lunch at Grain Store Unleashed, I was lucky enough to dine with Elin McCoy, who writes about wine for Bloomberg and is the author of The Emperor of Wine: The Rise of Robert M. Parker, Jr., and the Reign of American Taste.
We tested every single wine by the glass (there were more than a dozen), and she supplied her comments. Below, you can read her thoughts and ratings, followed by my ratings in parentheses.
White:
Saint-Laurand Collection Privée 2013, Les Celliers du Corneille, Languedoc, France (£4.50/$6.90): "It's kind of obvious. The flavors on the finish are really aggressive and not very attractive." 5/10 (5/10)
Neudorf Sauvignon Blanc 2013, Tim & Judy Finn, Nelson, New Zealand (£8.50): "It's got lots of grassiness to it, and it's got very colorful strong flavors, just not so many of them. It's a little bit aggressive. People who like sauvignon blanc are going to like that." 6/10 (6/10)
Riesling von der Fels 2013, Weingut Keller, Rheinhessen, Germany (£9.50): "It's very classic, very refined. Nothing about it is standing out and punching you in the face, like with the sauvignon blanc. It's got a level of minerality, plus some fruit." 7.5/10 (7/10)
Côtes du Rhône, La Fleur Solitaire 2013, Paul Boutinot, Rhône, France (£5): "It's got a little floral element to the nose. It needs food. It's got a grape-skin taste, which could be very nice with the right dish. But it's not complex. It's very dry." 6/10 (5/10)
Albarino, O Rosal 2013, Bodegas Terras Gauda, Rías Baixas, Spain (£9): "This has got more zing. It has that savory element in the finish that makes you want to have another glass. Nice fruit, quite dry. It has a lovely balance. A lot of people would like that one." 7/10 (6.5/10)
Petit Chablis 2014, Domaine des Malandes, Lyne Marchive, France (£6): "For a wine that price, this is extremely nice: very, very well done. If you think you're going to get a chablis with a lot of flint and minerality, this is not it. This has got lots of fruit coming through. It's crisp, it's pretty." 6.75/10 (7/10)
Talinay Vineyard 2013, Vina Tabali, Limarí, Chile (£7.50): "Wow. That has a pineapple element on the nose. People would like this much less than the petit chablis because it is too unusual. It has a certain amount of elegance, and it's very interesting. This is one for the person who wants to try something new and be adventurous. Limarí is way, way far north in Chile. It's a new hot area." 6.5/10 (7/10)
Red:
Cuvée des Galets 2014, Les Vignerons d'Estezargues, S. Rhône, France (£5): "It's soft and easy drinking: not much seriousness, not much complexity, but a very pleasant wine that people will like." 6/10 (5/10)
Villa Wolf Pinot Noir 2013, Wachenheim, Pfalz, Germany (£5.75): "The wine list description is quite right: fresh herbal notes, with berries. It has a bit of sharpness and a little bit too much oak. It's from a very good producer, Ernst Loosen, and it's pleasant. It's not a serious wine." 6.5/10 (7/10)
Chianti Classico 2011, Fontodi, Tuscany, Italy (£9.80): "Fontodi is a very, very good producer, and this is the most expensive by-the-glass wine on this list. It's a very well-made wine. It needs a little time. It has a juiciness that makes you want to have another glass. It's got lovely fruit." 7.5/10 (6.5/10)
ValSotillo Crianza 2011, Bodegas Ismael Arroyo, Ribera del Duero, Spain (£8.80): "It's smooth, rich, and chocolaty. It's opaque; the texture is very thick. It's too young, and you can taste the oak in it. There's a super dryness at the end. If you had a big piece of meat that had a lot of fat, this would be very good. But I'm not crazy about it." 5.5/10 (5.5/10)
Cairanne-Côtes-du-Rhône-Villages, Les Six 2011, Fide et Arte, S. Rhône, France (£6.40): "Very spicy nose. I like this one. This has got lots of flavor and lots of layers. Lots of spice, lots of black fruit, and really lighter texture than you would think. It isn't at all heavy. That's one of the reasons I totally prefer it to the crianza." 7.5/10 (7/10)
Crozes-Hermitage, Les Pontaix 2013, Domaine Fayolle, N. Rhône, France (£8.50): "This is a very serious wine. It's a cherry-filled nose. You can smell it: black cherries you put onto a pie. It's probably too young. It's packed together. It's a big wine. It's a very classic syrah. It's a wine you want with the main course when you are spending a lot of time over dinner." 8/10 (7/10)
Before it's here, it's on the Bloomberg Terminal.
LEARN MORE