Fiat Chrysler Profit Jumps 22% on North America, Currencies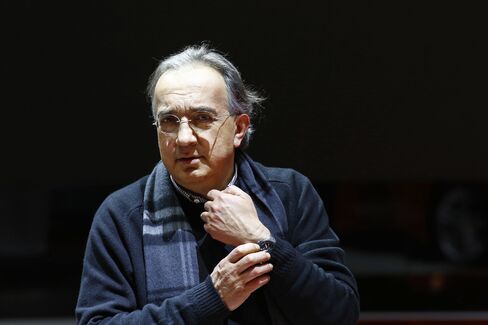 Fiat Chrysler Automobiles NV said first-quarter profit jumped 22 percent, backed by a resurgent European market, U.S. demand for Ram pickups and Jeep sport utility vehicles, and a strong dollar.
Earnings before interest and taxes excluding one-time items rose to 800 million euros ($880 million) from 655 million euros a year earlier, the London-based company said Wednesday in a statement. Revenue increased 19 percent to 26.4 billion euros, though the gain was just 4 percent excluding currency effects.
Chief Executive Officer Sergio Marchionne is pushing the auto industry to consolidate as a way to increase profitability. Other automakers have yet to take the cue, as booming sales in the U.S. and Europe are easing pressure to restructure. Marchionne will provide his view on "industry capital optimization" today on a conference call with analysts. The discussion won't be about selling the automaker, changes to its five-year plan or making excuses, the company said in slides on its website.
"The million-dollar question" is whether Marchionne will outline "anything about the industry and its capital requirements which is not already widely known," George Galliers, an analyst at Evercore ISI, said in a report. "If the answer is 'yes,' then for everyone following the industry, this should prove insightful, thought-provoking and interesting."
Decline Reversed
Fiat Chrysler declined 0.8 percent to $16.14 at 10:17 a.m. New York time after rising as much as 1.7 percent. The shares had gained 41 percent this year through Tuesday.
The company's European business was profitable for a second consecutive quarter, helped by the introduction of the Jeep Renegade and Fiat 500X models, two small SUVs that share the same underpinnings and are built at the company's Melfi plant in southern Italy.
"Results in Europe are clearly positive and better than expected," said Vincenzo Longo, a market strategist at IG Markets in Milan.
North American adjusted earnings surged 58 percent from a year earlier to 601 million euros, making up for a 65 million-euro loss posted in Latin America.
Ferrari Profit
First-quarter adjusted profit at Ferrari, the supercar maker that will be separated from Fiat Chrysler later this year, rose 25 percent to 100 million euros, helped by currency effects as the Maranello, Italy-based division delivered almost 100 fewer vehicles than a year earlier.
The manufacturer has relied on North American operations, where sales have risen for 60 straight months, to overcome weakness in Europe, where it made money in the fourth quarter for the first time since 2007.
The dollar's gain versus the euro enhances the margin coming from U.S.-made SUVs and trucks when the company converts those earnings into euros. The euro tumbled 21 percent against the dollar in the 12 months through April 27. Still, profit margins in the region remains "far below" General Motors Co. and Ford Motor Co., said Max Warburton, an analyst with Sanford C. Bernstein.
Before it's here, it's on the Bloomberg Terminal.
LEARN MORE