Even Financial Pros Choose Indexing for Retirement Savings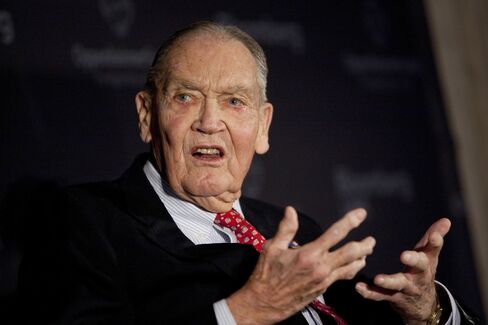 Planning for retirement? You're better off saving on fees in an index fund than trying to beat the markets.
That recommendation by legendary investor Jack Bogle is shared by 42 percent of financial professionals in the latest Bloomberg Markets Global Poll, who were asked about the most appropriate way for a midcareer person to invest for retirement. Only 18 percent said actively managed mutual funds were the best option, 17 percent recommended individual stocks and bonds, and 14 percent favored real estate.
The results suggest that many pros—people who are paid to make money for investors—are throwing in the towel and siding with Bogle, the founder of Vanguard Group who built the firm on the idea that most professionals can't beat the market and that investors therefore would be better off in low-cost index funds. Over the past five years just 21 percent of active funds that buy U.S. stocks beat their benchmarks, according to data from Chicago-based Morningstar Inc.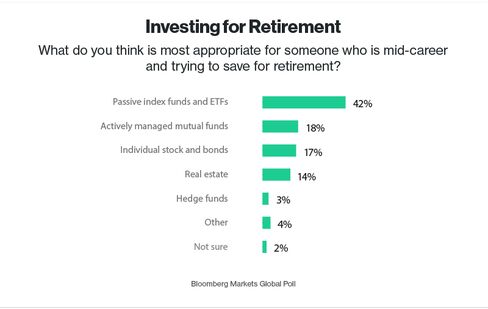 "We've been through a period where the indexes have outperformed," said Burton Greenwald, a mutual fund consultant based in Philadelphia. "It remains to be seen if that is a permanent shift or something that will go away."
The support for index funds and exchange-traded funds was most pronounced in the U.S., where 52 percent of respondents favored them. That compares with 36 percent in Europe and Asia. The poll surveyed 1,280 traders, analysts, money managers and executives who are Bloomberg subscribers.
Over the past five years, investors have poured more than $1 trillion into equity products, both mutual funds and ETFs, that track indexes, according to data from Morningstar. Funds run by stock pickers experienced $266 billion in redemptions in the same period.
The change in attitude has put the stock pickers on the defensive. Los Angeles-based Capital Group, which manages more active stock money than any other mutual fund company, has put out two studies touting the benefits of stock picking. Boston-based Fidelity Investments, which ranks second, has been running a series of ads, highlighting the fact that its top managers have beaten their benchmarks over long periods of time.
Mutual fund managers may take comfort in the fact that they're still viewed as vastly better for retirement savers than their high-paid colleagues at hedge funds. Only 3 percent of poll participants said that hedge funds are the best choice.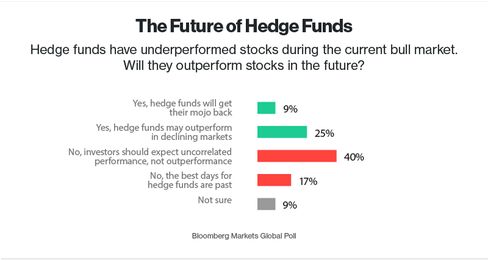 Hedge funds, which carry higher fees than actively managed mutual funds, have also struggled since the financial crisis. In the five years ended March 31, the Bloomberg Global Aggregate Hedge Fund Index returned 3.2 percent a year. That compares with 14 percent for the Standard & Poor's 500 Index and 11 percent for a Vanguard index fund that owns a mix of 60 percent stocks and 40 percent bonds.
Poll respondents weren't optimistic that hedge funds will outperform markets in the future. One-quarter of those polled said hedge funds may outperform in declining markets, 17 percent said hedge funds have seen their best days and 9 percent said hedge funds will get their mojo back. The biggest group, 40 percent, said investors should buy hedge funds if they want results that are uncorrelated to the stock market.
The Bloomberg Markets Global Poll gathered responses from 1,280 Bloomberg terminal subscribers. It was conducted April 14 and 15 by Selzer & Co. of Des Moines, Iowa. The margin of error is plus or minus 2.7 percentage points.
Before it's here, it's on the Bloomberg Terminal.
LEARN MORE