Drug Tied to Botched Executions Divides U.S. Supreme Court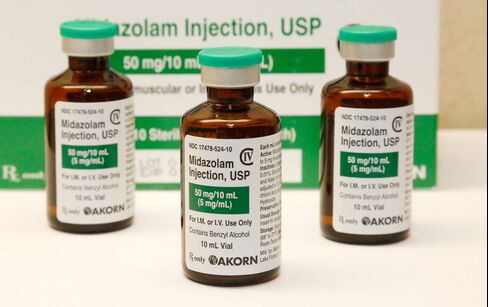 An emotional clash over lethal injections divided the U.S. Supreme Court along ideological lines as the justices heard contentions that a drug used by some states puts inmates at risk of a painful death.
In an hour-long session Wednesday full of rapid-fire questions, the justices treated the case as a proxy for the broader fight over capital punishment. Justice Samuel Alito accused opponents of waging a "guerrilla war against the death penalty" by making alternative drugs unavailable to states.
The Oklahoma case is the court's first look at execution methods since 2008, when it upheld what was then a widely used three-drug combination. It centers on midazolam, a sedative used in three executions last year that left inmates writhing, moaning and gasping for air.
Justice Elena Kagan likened Oklahoma's method to being burned at the stake. "It's being burned alive from inside, that's what it is," she said.
The case tests how far states must go to ensure against suffering by a death-row inmate. Three remaining Oklahoma prisoners say midazolam can't reliably put people into the deep, coma-like unconsciousness needed so that they don't feel the effects of the lethal drug administered later.
Justice Kennedy
Justice Anthony Kennedy, often the court's swing vote, said relatively little, though he may have tipped his hand during an earlier chapter of the case. He was one of five justices who in January let Oklahoma execute Charles Warner, one of the four inmates who filed the challenge. The execution took place over the dissent of the court's four Democratic appointees.
Less than two weeks later, the court agreed to hear the appeal by the three other inmates. Under the court's rules, it takes five justices to halt an execution but only four to consider an appeal.
States turned to midazolam after boycotts by European companies made it harder for officials to acquire other sedatives, including the one that was at issue in the 2008 case. Justice Antonin Scalia echoed Alito's position, blaming an "abolitionist movement" by death-penalty opponents that has forced states to rely on midazolam.
"You want to come before the court and say, well, this third drug is not 100 percent sure," Scalia said. "The reason it isn't 100 percent sure is because the abolitionists have rendered it impossible to get the 100 percent sure drugs."
Oklahoma administers midazolam before two other drugs are injected to kill the inmate. The state is one of four to have used midazolam, along with Florida, Ohio and Arizona.
Clayton Lockett
Oklahoma used midazolam for the first time exactly a year ago, on April 29, 2014, when Clayton Lockett writhed and moaned and took 43 minutes to die during his lethal injection.
A state investigation laid the primary blame on problems inserting a needle into Lockett's veins. Oklahoma has since revamped its procedures for placing an intravenous line and dealing with mishaps during an execution.
A three-judge federal appeals court panel upheld Oklahoma's revised protocols. The panel accepted a trial judge's finding that the planned dosage of midazolam, if properly administered, would almost certainly render an inmate unconscious and unable to feel the effects of the later drugs.
The findings of an expert who testified for Oklahoma in the lower court case in support of midazolam were criticized by Justice Stephen Breyer for using extrapolation to conclude the drug rendered prisoners sufficiently unconscious.
'Zero' Evidence
"His evidence for that was zero," Breyer said.
Kagan suggested there may be too much uncertainty about the drug's effectiveness to ensure that executions don't violate the Constitution's prohibition against cruel and unusual punishment.
"Suppose that we said, we're going to burn you at the stake, but before we do, we're going to use an anesthetic of completely unknown properties and unknown effects," she said. "Maybe you won't feel it, maybe you will. We just can't tell. And -- and you think that that would be okay?"
Justice Sonia Sotomayor accused Oklahoma Solicitor General Patrick Wyrick of being unreliable because of statements about the drug's effects that she said were unsupported and contradictory.
"Nothing you say or read to me am I going to believe, frankly, until I see it with my own eyes the context, okay?" she said.
'Horrific Crimes'
The Oklahoma case proved divisive among the nine justices before Wednesday's arguments. When the court let Oklahoma execute Warner in January, Sotomayor wrote for the four dissenters that the inmates "have committed horrific crimes and should be punished."
"But the Eighth Amendment guarantees that no one should be subjected to an execution that causes searing, unnecessary pain before death," Sotomayor wrote.
Warner showed no signs of obvious distress during his Jan. 15 execution.
The remaining inmates are Richard E. Glossip, John M. Grant and Benjamin R. Cole. Glossip was sentenced to death for his role in a murder-for-hire scheme, Grant for stabbing a correction worker to death, and Cole for killing his 9-month-old daughter.
Executions using midazolam in Ohio and Arizona have also encountered problems. In January 2014, Ohio inmate Dennis McGuire gasped for air for 25 minutes before dying. In July, the Arizona execution of Joseph Wood took almost two hours as he was injected with 15 times the planned dosage of midazolam.
The case is Glossip v. Gross, 14-7955.
Before it's here, it's on the Bloomberg Terminal.
LEARN MORE