In a week that saw another whopping Libor fine, two high-profile extradition proceedings, embarrassing e-mail transcripts and growing concern in some quarters about a potential Labour election win, there was still plenty of vitriol to go around in the more staid environs of London banks' annual shareholder meetings.
Taxing Headgear
Serial bank-baiter Michael Mason-Mahon, a self-styled champion of small shareholders in Britain, pulled the best gag at HSBC's shindig -- at CEO Stuart Gulliver's expense.
When complimented on his dapper headwear (paired with a Nehru jacket) by Deputy Chairman Simon Robertson, he explained: "This is a Panama hat for Mr. Gulliver, in case he didn't get one when he opened his account over there."
Robertson and Finance Director Iain Mackay found this very amusing. Chairman Douglas Flint cracked a smile.
Gulliver remained stony-faced.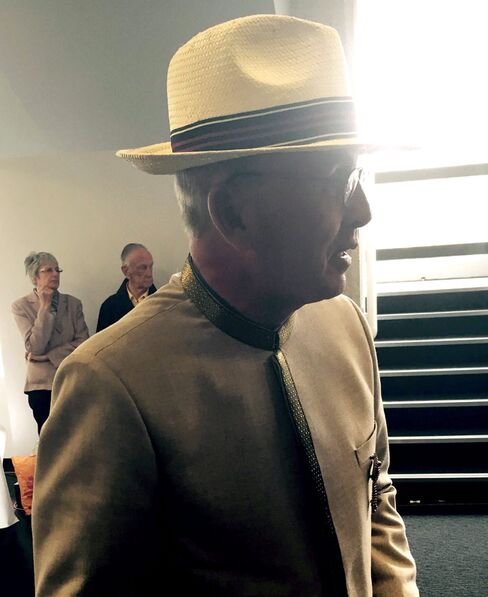 The CEO used to have his bonuses paid into a Swiss bank account owned by a Panamanian company when he worked in Hong Kong, as Britons learned when Gulliver's personal affairs were grilled by lawmakers probing the tax-evasion scandal at HSBC's private bank. (Arguably, he also made "non-dom" taxation an election issue, too.)
Gulliver, who says he used the Panama company to dodge snooping colleagues rather than the taxman, may be headed back to Asia as this may have been one of the last London AGMs for HSBC. The bank said Friday it was examining whether to leave the U.K., a blow to business-friendly Prime Minister David Cameron in the middle of a deadlocked election campaign.
Somalian Domicile
Most analysts said Hong Kong is the only alternative home for HSBC, even if Cameron manages to hold off Labour's banker-taxing Ed Miliband in next month's vote. (The Daily Mash satirical website suggested Somalia's light-touch regulation would be a better fit.)
A semi-revolt saw 24 percent of HSBC's investors vote against its pay policy. (Robertson, who heads the compensation committee, holds that Flint is underpaid.)
No Schmoozing
Barclays' Antony Jenkins had mostly faced happier shareholders the previous day. Just 2.5 percent of investors opposed the bank's pay package, down from 24 percent in 2013.
Some of the goodwill fizzled when the board and new chairman John McFarlane made the unusual-for-Barclays move of not mingling with individual shareholders and depositors, which was noted by attendees. Instead, they stayed holed up in a private room in London's Royal Festival Hall enjoying a valedictory lunch for departing chair David Walker, the "stabilizing influence when we needed it the most," according to Jenkins.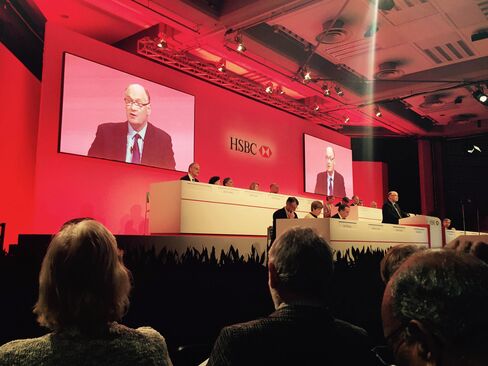 (Jenkins's manifesto to change Barclays's culture had promised to "incorporate the perspectives of all our stakeholders" and "take the time to understand clients.")
A few days later, Jenkins was beaten in the London Marathon by Bank of England boss Mark Carney -- by an hour and a half, as City A.M. noted over the weekend.
For the record, of the two banks, Barclays served the posher sandwiches to the assembled hordes, sourcing them from Marks & Spencer.
Teva Fee Fest
Jenkins's cost-cutting tenure has seen some high-profile departures from the old Lehman crew in Barclays's investment bank, but those remaining on the M&A team are expected to earn whopping fees if Teva Pharmaceutical succeeds in its $40.1 billion bid to snap up Mylan.
It's the drug industry's largest takeover attempt in 2015. (The latest wrinkle was Mylan rejecting the approach Monday.) Consulting firm Freeman estimates that Teva's advisors -- Barclays's deal team and Greenhill -- could earn around $80 million to $95 million. Barclays bankers including Punit Mehta, Gary Posternack, Jed Brody, Len Rosen and Jordan Bliss are working on the deal.
***
There was one more bank AGM last week. New-ish challenger TSB Banking Group's investors asked just two questions at the firm's first, and probably last, meeting: is the British bank's sale to Spain's Banco Sabadell value for money? Yes, chairman William Samuel said.
And what was the music being played? The answer: an interminable whistling number called Henry's Theme, composed by Anne Dudley and performed entirely using the human voice by 'the world's top whistler,' David Morris.
Before it's here, it's on the Bloomberg Terminal.
LEARN MORE