Buffett Serenades Coca-Cola Investors to Ease Growth Fears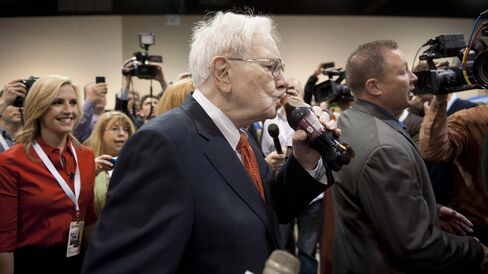 Billionaire investor Warren Buffett, Coca-Cola Co.'s top shareholder, appeared at the company's annual meeting to offer a shot of happiness in a tough period for the world's largest soda maker.
Buffett told Chief Executive Officer Muhtar Kent that he believes in the company, its products and its ability to adjust to consumer tastes. Kent has been criticized by another investor, David Winters, who says Kent is paid too much and has had a lackluster response to slowing global sales.
"If you're looking for a wonderful business, it's hard to beat Coca-Cola, so that's why I am here," Buffett said during the on-stage interview Wednesday. "We've got the product, that's been proven since 1886."
The appearance followed a video in which Buffett played "I'd Like to Buy the World a Coke" on a ukulele. The instrument had a red body and an acoustic hole the shape of a Coke bottle.
Coca-Cola expects earnings growth to miss its long-term targets in 2015, which Kent is calling a transition year. The shares slid 3.4 percent this year through yesterday, a steeper drop than rival PepsiCo Inc.'s 0.1 percent dip. The Standard & Poor's 500 Index gained 2.7 percent in that period.
Buffett said Coca-Cola will be fine as long as it listens to consumers. He also countered claims that the company's products are unhealthy.
"One-quarter of all the calories I've consumed come from Coca-Cola, and I tell you I feel healthy," Buffett said.
U.S. Comeback
When asked about the U.S. economy, Buffett said that the recovery hasn't been as fast as some desired, but "this country always comes back." That fact will bode well for Coca-Cola as incomes rise, he said.
"We've still got the secret sauce," he said. "This is the mother lode of opportunity, in the United States."
Buffett's Berkshire Hathaway Inc. will continue to "bet on this country," he added, citing its 2010 purchase of railroad company Burlington Northern Santa Fe as an example.
Buffett isn't as optimistic about national security, saying the only thing that worries him is the threat of "cyber, nuclear, biological or chemical attacks from either deranged people or in a few cases, perhaps, rogue states."
Coca-Cola shareholders, meanwhile, voted down a proposal to give themselves a say on restricted stock awards. They also approved the company's executive-compensation plan.
Winters said in a statement that the 20 percent of ballots cast against the executive-pay plan -- up from 9 percent a year ago -- will pressure Coca-Cola's board to reform compensation practices and repair the company faster. Winters also pressured the board to make changes before last year's meeting.
"It is gratifying to see that a year later even more investors have grown impatient with executive compensation that rewards failure," he said.
Before it's here, it's on the Bloomberg Terminal.
LEARN MORE