BAT First-Quarter Sales Miss Estimates on Lower Volumes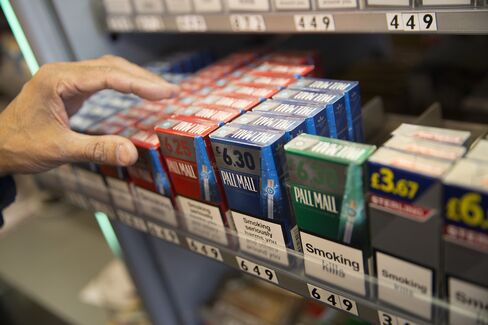 British American Tobacco Plc, the maker of Lucky Strike and Pall Mall cigarettes, reported first-quarter sales growth that missed estimates as consumption declined in all its markets.
Revenue at constant exchange rates rose 1.7 percent, the London-based cigarette maker said Wednesday. That compares with the 3.5 percent median growth estimate of 11 analysts surveyed by Bloomberg.
Tobacco companies have long been boosting prices as the volume of smokes sold declines due to increased government restrictions and the spread of e-cigarettes. In March, BAT bid $3.5 billion for the stake it doesn't already own in Souza Cruz SA, Brazil's biggest cigarette maker. The tobacco company said today it will get a new estimate of Souza Cruz's value after some investors opposed the offer.
The "weak" quarter "is an incremental negative," Exane BNP Paribas analyst James Bushnell said.
BAT fell 1.1 percent to 3,630 pence at 8:01 a.m. in London, trimming the stock's gain this year to 3.6 percent.
Credit Suisse Group AG will make a new valuation of Souza Cruz's shares in the next 30 days, BAT said today. Aberdeen Asset Management, the second-largest shareholder in the Brazilian company, rejected BAT's offer of 26.75 reais a share last month.
Deeper Decline
Cigarette volume from subsidiaries declined 3.6 percent, BAT said, worse than the 1.9 percent drop estimated by analysts and hurt by falloffs in Brazil, Russia and Vietnam. Volumes of the company's main global brands, which also include Dunhill and Kent, rose 5.7 percent on gains in market share.
BAT's performance will be "significantly skewed to the second half of the year," Chief Executive Officer Nicandro Durante said in a statement, due to a "strong" first half last year and the timing of price increases.
"The second half should be better, but these results now put them under a bit more pressure to deliver decent 'hockey stick' results for the full year," Philip Gorham, an analyst at Morningstar, said by e-mail.
BAT said a decision should come "shortly" from the Federal Trade Commission over Reynolds American Inc.'s proposed purchase of American tobacco maker Lorillard Inc. The British company is funding $4.7 billion of the $25 billion deal, in order to keep a 42 percent stake in Reynolds.
Before it's here, it's on the Bloomberg Terminal.
LEARN MORE