Art Collector Liu in $1.5 Billion Bet on China Broking Boom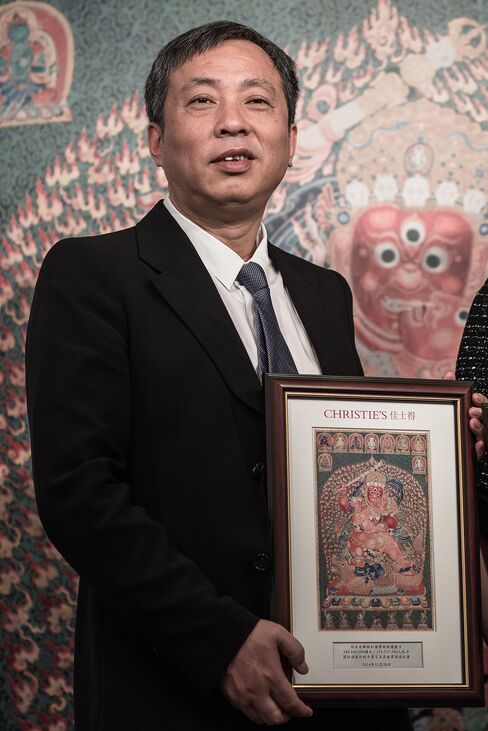 Billionaire art collector and investor Liu Yiqian, the former taxi driver famous for splashing out on ancient scrolls and imperial porcelain, is adding a bet on a Chinese brokerage.
A company owned mainly by Liu and his daughter Liu Yanchao will buy a 14.7 percent stake in Changjiang Securities Co. for 10 billion yuan ($1.5 billion), according to a Shenzhen stock exchange filing late Tuesday by the brokerage in Wuhan, Hubei province. The deal implied a price of about 14.3 yuan per share, a 24 percent discount to the last trade before the announcement.
While Liu, 52, is known for purchases such as a 500-year-old ceramic bowl that once belonged to Emperor Qianlong, he says he got his break betting on stocks in the 1980s. China's share market boom is pumping up brokerage profits with Haitong Securities Co., one of the nation's biggest, reporting Tuesday that net income more than tripled in the first quarter from a year earlier.
Changjiang's shares fell 6.1 percent to 17.8 yuan as of 11:30 a.m. local time in their biggest intraday decline in more than a month. That pared their gain in the past year to about 273 percent.
"The discount is a bit too much and it's unclear what the new shareholder can bring to the table," said Zhang Yanbing, a Shanghai-based analyst at Zheshang Securities Co.
The company selling the stake is Qingdao Haier Investment & Development Co., the brokerage's largest shareholder.
Liu already has investments in the finance industry, including in Orient Securities Co. in Shanghai, and is the chairman of Hubei Biocause Pharmaceutical Co. His holding company Sunline Group has a finance unit, a commercial and residential property developer and an insurance arm that has a joint venture with Paris-based AXA SA.
Liu's built and filled two museums with more than 2,300 works, including contemporary pieces by Jeff Koons and Yayoi Kusama. In the past year, he's spent more than $115 million picking up such treasures.
— With assistance by Paul Panckhurst, and Jun Luo
Before it's here, it's on the Bloomberg Terminal.
LEARN MORE