Wockhardt Slumps on Recall of Some Drugs From U.S. Market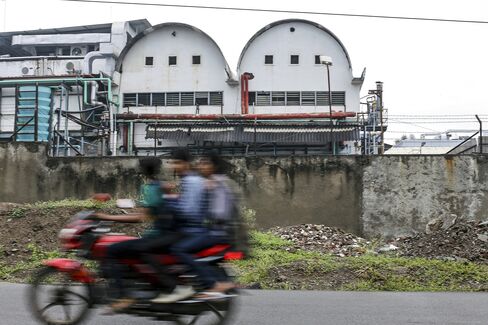 Wockhardt Ltd. said it will recall from the U.S. all remaining batches of certain products that were manufactured before two facilities were banned by the Food and Drug Administration. The stock slumped.
In an inspection last month of Wockhardt's Chikalthana plant near Aurangabad, the FDA made "some observations" regarding batches of some products manufactured before the facility was banned from selling to the U.S. in 2013, the company said in a statement to the stock exchange today.
"As a measure of preparedness and as an abundant precaution, the company has now decided to recall, as a part of remedial measure all the remaining batches in the U.S. market," the Indian drug maker said. There is no evidence of risk to patient safety from the products currently available in the U.S. market, it said.
Wockhardt shares fell 6.4 percent to 1,243.55 rupees in Mumbai trading today, extending an 18 percent drop on Monday. The Mumbai-based drugmaker has said it is addressing concerns raised by the FDA, which has banned sales of drugs from two of its Indian factories to the U.S. after finding data-integrity lapses. The banned Chikalthana facility was once the company's largest generator of revenue and made copies of the popular heart pill Toprol XL among other products for the U.S. market.
The FDA issued a 17-page inspection report to Wockhardt last month, obtained by Bloomberg under a Freedom of Information Act request. The report, called a Form 483, details observations of potential issues spotted by FDA officials during the site visit from March 9 to 17.
Customer Complaints
Wockhardt is recalling 12 to 15 products from the U.S. market, Chairman Habil Khorakiwala said in a press conference in Mumbai today. The recall will help resolve FDA concerns, he said.
FDA inspectors in their March report said Wockhardt made incomplete investigations into customer complaints over pills that were ineffective or had other defects, and some batches of a product were recalled during the inspection. The agency redacted the product name.
Some of the product complaints went as far back as 2012, while some complaints were as recent as 2015.
Since January 2012, Wockhardt has received 471 consumer complaints relating to fragmented tablets, lack of effect, deformed capsules, size issues and missing labels, according to the inspection report. Of these, 335 complaints were from the U.S.
Before it's here, it's on the Bloomberg Terminal.
LEARN MORE