Why You Should Pay Attention to China's New Monetary Policy Tool
The PBOC's PLS is similar to the ECB's hugely successful operation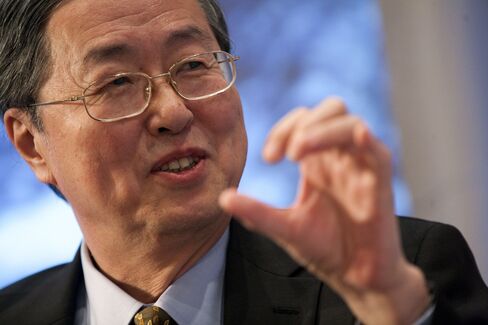 Reports this morning that the People's Bank of China is considering expanding its Pledged Supplementary Lending (PSL) facility to allow it to accept local government debt may prove very significant.
It is understandable if your eyes are already glazing over at the thought of unravelling the intricacies of central bank plumbing, but bear with us on this one.
First, a little history.
On December 8 2011 European Central Bank president Mario Draghi announced that the ECB would launch two longer-term refinancing operations in order to provide extra financing for the euro-area financial system. The market reaction was initially lukewarm as the scale and significance of the LTROs, which each carried a term of three years, was not immediately apparent. As the chart of Spanish and Italian two-year bond yields below shows, those instruments were sold by the market the day Mario Draghi introduced the instrument.
That all changed following the announcement later that month that banks had taken 489 billion euros worth of the LTROs.
By the time the second three-year operation - for 529.5 billion euros - was launched the following February, the market reaction was positively euphoric.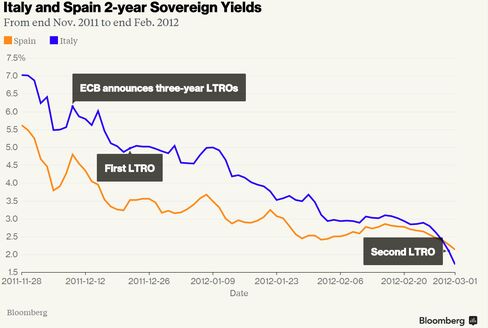 What does an operation started by the ECB over three years ago have to do with the PBOC today?
Bloomberg Intelligence's Tom Orlik and Fielding Chen did some work recently on the new policy toolbox that the PBOC launched last year.
They produced this great table showing the new tools the central bank now has at its disposal.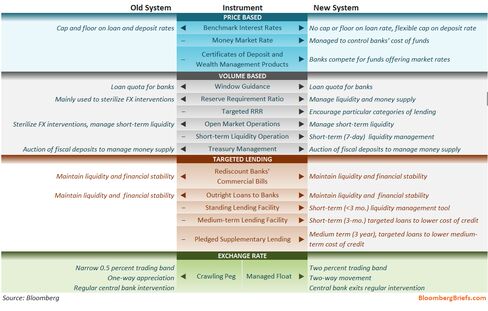 Pledged Supplementary Lending is second from the bottom of the table. Note that PSL, like the ECB operation, also has a three-year term.
Reportedly, the PBOC has already run one PSL operation in July of last year where it made 1 trillion yuan ($162 billion) in loans to China Development Bank.
The new PSL in today's reports would be channeled to banks in China to allow them to purchase local authority bonds - a move that could give the Chinese economy a shot in the arm, shore up its financial system and simultaneously help shift municipalities away from their habit of borrowing off their own (swollen) balance sheets.
We have no idea how big any new PSL operation would be or even if one will definitely occur.
But one thing that we have learned from the ECB LTRO operations of old is that central bank plumbing really can move markets - once markets get a chance to figure out exactly what is going on.
Watch this space.
Before it's here, it's on the Bloomberg Terminal.
LEARN MORE