Warren Said to Join Vitter in Seeking to Curb Fed Crisis Lending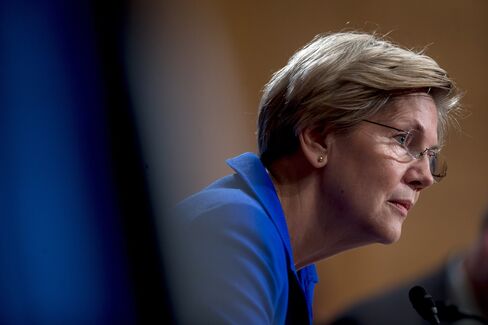 Elizabeth Warren and David Vitter, senators at opposite ends of the political spectrum, are collaborating on legislation to further curb the Federal Reserve's authority to bail out banks in a crisis, according to two people familiar with the matter.
They are seeking to define more clearly when a bank is solvent, and thus eligible for funding, limit the length of time a firm can borrow and set penalty rates of interest on emergency loans, said the people, who asked not to be named because the talks are private.
The discussions come as Senate Banking Committee Chairman Richard Shelby crafts a broader bill on financial regulation. The measure may include trimming the power of the New York Fed, increasing congressional oversight of the central bank and curbing its regulatory authority.
The banking committee, which oversees the central bank, is "looking at a number of Fed reform proposals, including facets of the Vitter-Warren approach," according to Torrie Miller, a spokeswoman for Shelby, an Alabama Republican.
Warren, a Massachusetts Democrat, and Vitter, a Louisiana Republican, have been united by their conviction that the Fed went too far in bailing out troubled financial firms, such as American International Group Inc., during the financial crisis of 2008-2009.
"Monetary politics make for strange bedfellows," said Peter Conti-Brown, an academic fellow at Stanford Law School who testified before Shelby's committee at a March 3 hearing on the Fed.
Political Undercurrents
"They are responding to the same political undercurrents, that financial regulators are simply too close to the banks they regulate and can't be trusted to make decisions to protect the interests of Main Street," he said.
David Skidmore, a spokesman for the Fed board in Washington, declined to comment on the efforts by Warren and Vitter to craft new legislation.
Lindsay Bembenek, a spokeswoman for Vitter, declined to comment on the negotiations. Matt Cournoyer, a spokesman for Warren, also declined to comment.
Congress reined in the Fed's emergency lending powers when it passed the Dodd-Frank Act of 2010. The central bank still hasn't completed rules detailing how it will implement those changes, and Fed officials have made clear they favor retaining as much flexibility as possible to contain future crises.
That has put them in conflict with lawmakers who want clear rules that minimize the Fed's discretion and eliminate its ability to rescue individual banks.
'Back-Door Bailouts'
Warren and Vitter were among 15 lawmakers who wrote to Fed Chair Janet Yellen in August asking her to clarify and finish new rules that would foreclose the possibility of "back-door bailouts."
The Fed's existing rules place "no meaningful restrictions" on those powers, the lawmakers said.
Yellen wrote back on Oct. 2 to say the Fed "will carefully consider your letter and the suggestions you make," according to copies of letters obtained by Bloomberg News.
Under the Dodd-Frank Act, the Fed can only provide emergency loans to firms as part of a program designed to provide liquidity to the financial system as a whole. It also limits lending to solvent firms that have the approval of the Treasury Department.
Congress left many details of how to implement the new restrictions to the Fed. In January 2014, the Fed proposed rules that defined an insolvent firm as one in bankruptcy or insolvency proceedings. The rules don't set a time limit on emergency loans or specify penalty rates.
Risky Behavior
"That is preserving complete flexibility," Conti-Brown said. Lawmakers, he added, are worried the Fed's wide discretion will encourage risky behavior by banks that expect to be bailed out in a crisis.
"Warren is saying, 'Let's worry about tomorrow, tomorrow. We have a real problem right now in moral hazard'," he said.
Fed Governor Jerome Powell warned lawmakers in February against further limiting emergency lending authority, saying the Dodd-Frank overhaul struck a "reasonable balance."
"It would be a mistake to go further and impose additional restrictions," Powell said in a speech in Washington. "Because we cannot anticipate what may be needed in the future, the Congress should preserve the ability of the Fed to respond flexibly and nimbly to future emergencies."
Before it's here, it's on the Bloomberg Terminal.
LEARN MORE