VW's MAN Truck Unit Profit Drops as 'No Sign' of Brazil Recovery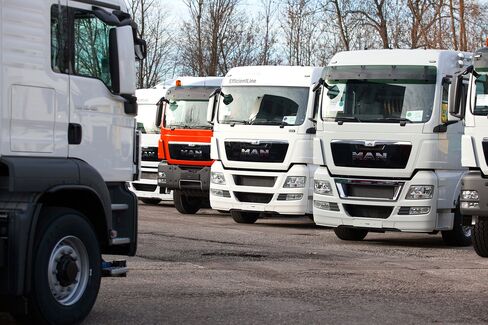 MAN SE, Europe's third-largest truck manufacturer, said first-quarter earnings fell 50 percent as the market in Brazil continues to decline.
Operating profit fell to 34 million euros ($37 million), from 68 million euros a year earlier, the Munich-based unit of Volkswagen AG said Tuesday in a statement. Sales fell 2 percent to 3.09 billion euros.
MAN is working to offset the recession in Brazil, which has cut the company's South American orders for trucks and buses nearly in half, as well as an Eastern European market weakened amid conflict in Ukraine. Volkswagen, meanwhile, hopes to transform MAN and Scania, another truck unit, into a global business to become the world's most profitable truckmaker ahead of Daimler AG.
"There are no signs of a recovery yet in Brazil," the company said in the statement.
MAN confirmed its forecast of "stable" earnings for 2015 after cutting production last year to address the slowdown. A second straight year of declining orders is leaving production plants in Europe underutilized, and the company is negotiating with unions to scale back operations.
This year Volkswagen brought in Andreas Renschler, a former head of Daimler's truck unit, to improve cooperation between MAN and Scania, which compete in several markets. In the first key personnel change since Renschler's appointment, former Daimler manager Joachim Drees will lead MAN's truck and bus manufacturing unit, the company said in May.
Scania's truck orders dropped 4 percent to 18,311 units in the first quarter because of economic downturns in South America and Russia.
Before it's here, it's on the Bloomberg Terminal.
LEARN MORE