Under Armour's Innovation Chief Survives Everest Avalanche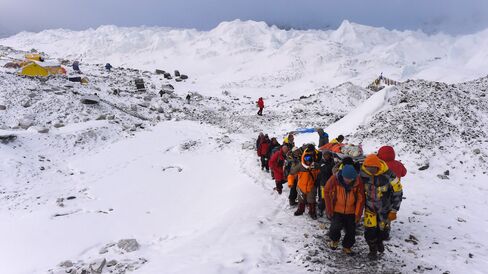 Under Armour Inc. executive Nick Cienski narrowly survived an avalanche on Mount Everest caused by the Nepal earthquake and is now helping with the rescue effort.
Cienski, senior director of innovation for the sporting-goods company, left for Nepal late last month and has been at the mountain's base camp for the past few weeks, the company said.
"It was terrifying," Cienski told ABC News. "When you looked up and saw this thing coming at you, it was like out of a Hollywood movie. It was a huge wave of snow."
Cienski's trip to Nepal was part of a plan to climb Everest and five more of the world's highest peaks over the next year to raise awareness for human trafficking through the non-profit Mission 14. He's also testing Under Armour clothing that he designed, including a snow suit.
For the time being, Cienski and his team, including his wife Sandi, are staying at base camp to help with the rescue. He said they have plenty of food and water because they'd planned to be in the region for several more weeks. While at least 19 people died on the mountain, no one on his crew was injured during the avalanche. The death toll from the earthquake now stands at more than 5,000.
"We were really fortunate when the avalanche struck," Cienski told ABC. "We got hit by just the edge of it."
Before it's here, it's on the Bloomberg Terminal.
LEARN MORE