Twitter Co-Founders Just Lost Almost $750 Million
Twitter stock crashes after ugly earnings report
Twitter Inc. co-founders Evan Williams and Jack Dorsey lost almost $750 million in paper wealth this afternoon after the company posted first-quarter revenue that fell short of estimates.
The microblogging business also cut its sales forecast as the company struggles to attract more users and advertisers. The stock fell 18 percent, fueled by the early release of results.
Williams, who owns 7.5 percent of the San Francisco-based company, dropped almost $525 million, according to the Bloomberg Billionaires Index. Dorsey, who also co-founded Square Inc., a mobile-payments company, lost about $220 million.
Twitter's revenue is a new concern for investors, who have spent the past year criticizing slowing user growth. Sales will be $470 million to $485 million in the second quarter, the company said in a statement Tuesday, missing analysts' average projection for $538.1 million.
It cut full-year revenue guidance to $2.17 billion to $2.27 billion, from the previous range of $2.3 billion to $2.35 billion.
"No one likes to see a stock fall like that," Williams said in an interview with Bloomberg TV. "But, honestly, I have the utmost faith in the long-term business of Twitter and it's easy to get caught up in the ups and downs of the stock market."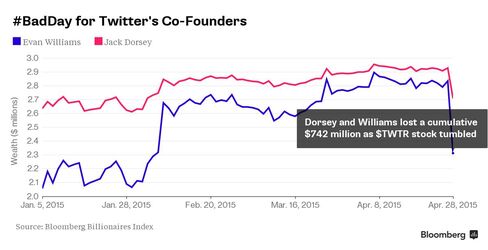 Before it's here, it's on the Bloomberg Terminal.
LEARN MORE