Teva Can Secure Mylan Deal With Bid Under $100 a Share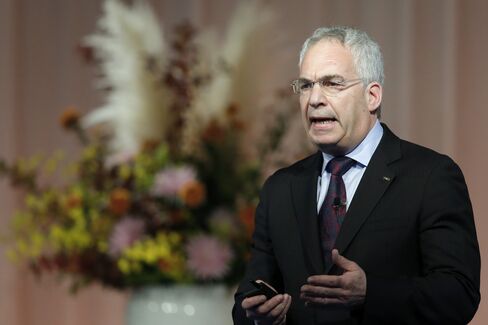 Teva Pharmaceutical Industries Ltd. can afford to pay the price Mylan NV says is required to even start merger talks. But it won't need to.
Mylan rejected Teva's $82-a-share bid Monday, saying it would take an offer "significantly in excess of $100" before it would consider engaging in discussions with the generic-drug giant. If Teva really wanted to, it could make that kind of offer. Teva's projection of $2 billion in annual cost savings means the acquisition is accretive even at prices well above that amount, according to data compiled by Bloomberg.
But analysts and investors say that large of a bump won't be necessary. Teva's bid already looks appealing in comparison to Mylan's current stock price of $73 and change. As Teva meets with key Mylan shareholders to try to win their support, five investors polled by Bloomberg News on Monday said a suitable takeout price would be $85 to $95 a share.
"Because it's a highly accretive deal, it certainly lends some room to raise the bid," Kevin Kedra, an analyst for Gabelli & Co. in Rye, New York, said in a phone interview. At the same time, "Mylan shareholders would probably be receptive to a number that doesn't need to be $100."
Other sell-side analysts agree. Canaccord Genuity Group Inc.'s Corey Davis says Mylan is worth a maximum of $100 a share to Teva. Cowen Group Inc.'s Ken Cacciatore pegs Mylan's value at $88 to $92 a share.
"Teva is already right near that threshold and can easily cross it," Cacciatore wrote in a report Monday. He predicts Teva will sweeten its bid, and then Mylan shareholders will begin to put pressure on the company to negotiate. Should Mylan continue to resist, Teva could move to a tender process or investors could ask for a special vote to overhaul the board, he said.
Perrigo Pursuit
Instead of negotiating with Teva, Mylan is pursuing a $31.2 billion hostile takeover of Perrigo Co., a maker of over-the-counter medicines. The Perrigo purchase, if successful, would serve as a way for Mylan to avoid getting bought by Teva. So far, Perrigo has rejected Mylan's overtures.
That leaves both potential transactions at a standstill.
"Something is going to have to break," Davis, a New York-based analyst for Canaccord, said in a phone interview.
Forceful Rejection
The tone of Mylan's letter to Teva Monday signaled to investors that it isn't just posturing to get a better offer price. Mylan Executive Chairman Robert Coury made digs at the Israeli company's leadership and called its corporate culture dysfunctional. "We do not wish to make Teva's problems Mylan's problems," Coury wrote to Erez Vigodman, Teva's chief executive officer since February 2014.
In theory, Teva could afford a knockout bid of more than $100 a share. Even an unlikely $120 bid funded half in Teva shares would boost Teva's earnings by about 15 percent next year, data compiled by Bloomberg show. That's based on the $2 billion of annual synergies that Teva forecast and assumes typical financing and tax rates.
Teva has scheduled some meetings with key Mylan shareholders for this week in New York, according to people with knowledge of the matter, who asked not to be identified because they're not authorized to speak publicly on the matter. Teva's goal is to convince shareholders that Mylan would be better off in its control, the people said. Teva is scheduled to report earnings Thursday.
Deal Alternatives
Most analysts say the $52 billion company needs a deal, but not necessarily this one. As Canaccord's Davis put it, the Mylan merger is like a financing tool to help Teva with its strategic goals. The deal would help increase Teva's earnings and cash flow so that it can then make more acquisitions of specialty pharmaceutical companies with promising drugs.
In March, Teva agreed to buy Auspex Pharmaceuticals Inc. for $3.1 billion to gain neurology drugs that curb tics and other movement disorders. While Auspex doesn't yet generate any revenue, its sales may surge past $500 million beginning in 2020, estimates compiled by Bloomberg show.
Teva will need to buy more companies like Auspex to help sustain growth over the long run after its own top-selling medicine -- Copaxone for multiple sclerosis -- loses share to generic copies.
For now, investors are trying to guess how the Teva-Mylan-Perrigo love triangle will turn out. Either target could still attract other suitors.
"This could go one of several ways," Kedra of Gabelli said. "The question is, how do you play it and are you investing in the one that has nobody else to dance with?"
Before it's here, it's on the Bloomberg Terminal.
LEARN MORE