Rule No. 1 in China's Bull-Market Rally: Don't Look at Earnings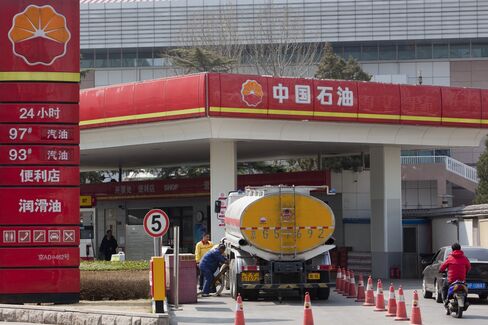 If you're worried about China's worst earnings season since the global financial crisis, you're looking at this stock-market rally all wrong.
At least that's the message from individual investors. They've propelled the Shanghai Composite Index to a 90 percent surge since mid-October, even as 2014 profits missed estimates by the most in six years and analysts cut their outlooks at the fastest pace since 2009.
Foreign skeptics see the disconnect between earnings forecasts and share prices -- now bigger than in any of the world's top 40 markets -- as a sign that China's rally has gone too far.
Yet it's mainland individuals who account for at least 80 percent of trades, and they're still buying shares at a record pace in anticipation of further government stimulus. That helps explain why the highest price-to-earnings ratios in five years have failed to slow the Shanghai Composite's advance.
"Right now, people are betting on policies instead of fundamentals," said Alex Wong, a Hong Kong-based asset-management director at Ample Capital Ltd., which oversees about $150 million.
For international money managers more accustomed to analyzing income statements than the habits of China's part-time traders, the rally has been painful. They've pulled about $2.6 billion from the three biggest overseas exchange-traded funds tracking China's domestic stock market in the past month, a period when the Shanghai gauge rose 21 percent.
Missing Out
On the city's exchange link with Hong Kong, there's still about 171 billion yuan ($27.6 billion) of quota for mainland equity purchases that's gone unused by foreign funds.
"If investors followed the value investing principle, they would have missed out," said Hao Hong, a China strategist at Bocom International Holdings Co. in Hong Kong.
Earnings in the Shanghai Composite trailed analyst estimates by 2.7 percent last year as 63 percent of companies missed projections. Results for the first quarter so far have lagged behind by 17 percent, according to data compiled by Bloomberg. While analysts predict profits will climb 28 percent in the next 12 months, they've cut per-share estimates by 9 percent since mid-October.
The trend is similar across the border in Hong Kong, where about 59 percent of Hang Seng Index companies trailed 2014 earnings estimates and analysts' 12-month forward projections dropped by 7 percent from their high in October.
PetroChina Rally
The Shanghai Composite was little changed at the close on Wednesday, while the Hang Seng index slipped 0.2 percent.
PetroChina Co., the nation's biggest company by market value, became one of the latest examples of the divergence between share prices and profits this week.
The $402 billion oil producer climbed to the highest intraday level since 2009 in Shanghai trading on Tuesday, even after posting a worse-than-estimated 82 percent drop in first-quarter profit to the lowest level on record. The stock has surged 33 percent this year amid speculation China will merge government-owned companies in the energy industry.
Investor confidence will start to sour if earnings don't improve, said Grace Tam, a global market strategist at JPMorgan Asset Management, which oversees about $1.7 trillion worldwide. The Shanghai Composite is valued at 17 times estimated earnings for the next 12 months, the highest level since April 2010 on a weekly basis, and the median multiple index companies is about twice that level.
Monetary Stimulus
"Sentiment is too bullish," Tam said in a briefing in Hong Kong on April 27. "If there could be a healthy correction, we would be more comfortable to buy."
There are few signs that such a reversal is imminent. The number of Chinese stock accounts containing funds increased by a record 5 million in the four weeks ended April 17 to 60.1 million, while margin debt on the Shanghai exchange climbed to an all-time high of 1.21 trillion yuan on April 27.
Bulls are betting authorities will do whatever it takes to prop up growth after the world's second-largest economy expanded 7 percent last quarter, the weakest pace since 2009. China's central bank cut the amount of cash lenders must set aside as reserves by the most since 2008 this month, following two reductions in its benchmark lending rate since November.
As Chinese stocks climb and earnings estimates fall, their 120-day correlation has dropped to minus 0.85, meaning the two are moving in nearly opposite directions. In Japan, Asia's second-largest equity market, earnings projections and shares are moving almost in tandem.
Chinese investors are speculating the government "will do even more to stimulate," said Cedric Ma, a Hong Kong-based senior investment strategist at Convoy Asset Management Ltd., which oversees the equivalent of $464 million. "That's what brings more people to the equity market."
— With assistance by Kana Nishizawa, and Allen Wan
Before it's here, it's on the Bloomberg Terminal.
LEARN MORE