Santander Quarterly Profit Rises on Growth Across Markets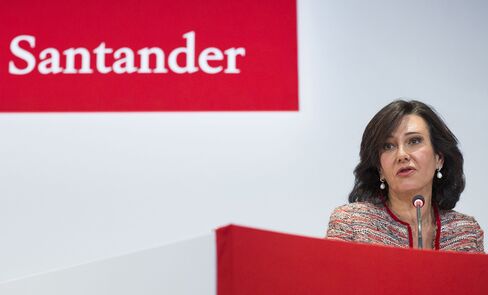 Banco Santander SA said profit rose 32 percent in the first quarter, propelled by growth in lending on the three continents where it does business.
Net income rose to 1.72 billion euros ($1.9 billion) from
1.3 billion euros a year earlier, Spain's biggest bank said Tuesday. The result beat the 1.69 billion-euro average estimate in a Bloomberg survey of 15 analysts.
After tapping shareholders for 7.5 billion euros in January, Chairman Ana Botin set out plans to expand consumer banking in its 10 largest markets. All but Chile posted an increase in profit compared with a year earlier. Lending rose everywhere except in Portugal.
"Santander's strong increase in lending reflects our commitment to helping our customers grow," Botin said in a statement Tuesday. "When we raised capital in January, we said our goal was to target organic growth in our core markets forecasted to achieve strong economic recovery."
The bank also has sought to expand through acquisitions. In Portugal, Santander is bidding for Novo Banco SA, the bank that emerged from the breakup of Banco Espirito Santo SA. Santander also reached an agreement with Italy's UniCredit SpA last week to merge their asset management businesses.
Profit growth at the bank was led by its Spanish unit, with a 42 percent increase, followed by Brazil with 41 percent. The U.K., Santander's second-largest market, grew 14 percent, while the U.S. business expanded 28 percent.
Botin has targeted a return on tangible equity ranging between 12 percent to 14 percent in 2017. The measure of profitability stood at 11.5 percent at the end of the first quarter.
"Brazil is doing better than expected with lower provisions and costs," said Benjie Creelan-Sandford, analyst at Macquarie Group Ltd. "The question would be if that is sustainable in the long term."
He said the bank's performance in Spain was disappointing, pointing to a decline in net interest income from the last three months of 2014. Creelan-Sandford has an underperform recommendation on Santander.
Brazil has become Santander's largest market, accounting for 21 percent of the group's earnings. Profit at the unit rose 42 percent in the first quarter form a year earlier to 516 million euros.
Profit at Santander U.K. rose 27 percent in the quarter from a year earlier to 477 million euros. Provisions for liabilities and charges rose to 18 million pounds ($27.4 million), the lender said in a separate statement.
Credit Expansion
As Spain's economy rebounds from a five-year slump, credit is picking up at the country's largest lender. New lending to companies grew 24 percent from a year earlier and 36 percent to individuals, the bank said. Net retail loans climbed in the group 14 percent from a year earlier.
Santander's shares climbed 0.6 percent to 6.8 euros as of 9:05 a.m. in Madrid, paring this year's decline to 2.7 percent. That compares with an 18 percent gain in the benchmark STOXX Europe 600 Banks Price Index, which tracks 47 of the region's banks.
Common equity Tier 1, a measure of financial strength, remained at 9.7 percent as of the end of March, unchanged from the end of December.
In the first quarter, provisions for non-performing loans fell to 2.5 billion euros from 2.7 billion euros from a year earlier, Santander said. Bad loans as a share of total lending at Santander fell to 4.9 percent from 5.2 percent at the end of December.
Net interest income, or revenue generated from the difference between what banks charge for loans and pay for funding, rose to 8 billion euros from 7 billion euros a year ago.
Before it's here, it's on the Bloomberg Terminal.
LEARN MORE