Russian ADRs Advance as Putin Says Worst of Downturn Has Passed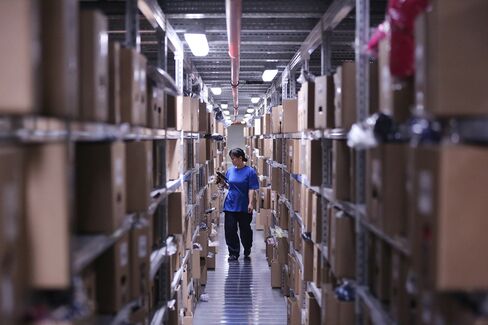 Russian stocks rose in the U.S. as CTC Media Inc. gained on speculation a local company will buy it amid tighter restrictions on foreign ownership and President Vladimir Putin said the worst has passed for the economy.
The biggest exchange-traded fund tracking Russian companies gained for the fifth time in six days in New York. Natural gas exporter OAO Gazprom jumped 1.9 percent, the most on the Bloomberg Russia-US Equity Index, which added 0.1 percent. OAO Sberbank, the nation's biggest lender, rallied 1.7 percent.
CTC Media rose for a second day, adding 0.7 percent to $4.29 after the newspaper Vedomosti said state-run OAO Rostelecom is considering buying the TV broadcaster. CTC has slid 12 percent this year amid mounting concern about how it will comply with stricter foreign-ownership limits for media companies. Putin said at a conference that the economy has moved past the most challenging phase of its downturn and isn't facing the threat of a collapse.
"It looks like CTC Media is getting a chance to survive," Oleg Popov, a money manager at Moscow-based April Capital asset management, said by phone on Tuesday. "Investor sentiment is improving on bets the company will be preserved in its current shape. That optimism is combined with some estimates that the worst of the slowdown may be over and the central bank will reduce rates at its April 30 meeting, making credit cheaper."
The central bank will probably reduce the key interest rate by one percentage point to 13 percent on April 30, according to the median estimate of 39 analysts surveyed by Bloomberg. Policy makers increased the benchmark rate to 17 percent in December to stem the ruble's 46 percent decline in 2014. They have reduced it as the currency rebounded 18 percent this year.
Recession Forecast
Economists surveyed by Bloomberg estimate that gross domestic product will shrink 4.05 percent this year, the first contraction since 2009. Economy Minister Alexei Ulyukayev said on April 23 that growth may resume in the fourth quarter.
CTC Media will probably post an 80 percent plunge in profit when it reports first-quarter results on Thursday as sales were crimped amid the economic downturn, according to analysts surveyed by Bloomberg.
Moscow-based CTC Media is 39 percent owned by Sweden's Modern Times Group MTG and 36 percent of its shares trade in New York. It has until the end of 2016 to reduce its foreign ownership to a maximum of 20 percent to comply with new rules.
"We consider any news of the company getting a strategic Russian investor as positive," analysts led by Konstantin Chernyshev, head of research at UralSib Capital LLC in Moscow, said in note to clients Tuesday, reiterating a buy rating.
The Market Vectors Russia ETF jumped 1.2 percent to $19.72. Gazprom increased to $5.92. Sberbank rose to $5.90. The Bloomberg gauge of the most-traded Russian stocks in the U.S. advanced to 64.12.
Yandex NV, Russia's largest search engine, tumbled 5.3 percent to $19.20 after earnings fell last quarter as a weaker ruble inflated dollar-linked expenses such as rent and personnel costs.
Before it's here, it's on the Bloomberg Terminal.
LEARN MORE