Productivity Viewed as Watchword for U.S. Stock, Economy Outlook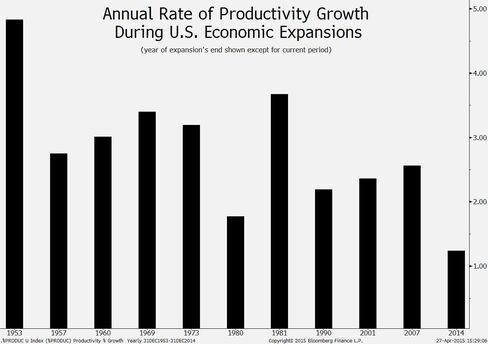 Bigger increases in U.S. productivity are crucial for sustaining economic growth and stock-market gains, according to James W. Paulsen, Wells Capital Management Inc.'s chief investment strategist.
As the attached chart illustrates, the average annual increase in employee output during the current expansion is the smallest since at least the 1940s. Paulsen cited these figures in an April 23 report. They were based on data compiled by the Labor Department and the National Bureau of Economic Research.
Productivity rose at a 1.2 percent annual rate from the second half of 2009 through 2014, as the chart shows. The pace slowed from 2.6 percent in the previous expansion, which lasted from 2001 through 2007.
"The combination of a prolonged pause in private-sector investment since the 1990s tech boom and a protracted decline in public-sector investment spending" explains the more restrained growth this time around, Paulsen wrote.
Demographics are also hampering the economy's expansion, the Minneapolis-based strategist wrote. He cited data showing the U.S. working-age population rose 0.7 percent a year since the most recent recession ended in June 2009. The annual rate exceeded 1 percent in every prior expansion since the 1960s.
Taken together, productivity and demographics amount to "supply-side constraints" that won't be resolved through bond purchases, near-zero interest rates, minimum-wage increases and other efforts, according to Paulsen. "Attention needs to shift from treating weak demand to boosting supply capacity" through renewed investment and immigration-policy changes, he wrote.
Before it's here, it's on the Bloomberg Terminal.
LEARN MORE