Nomura Misses Goal of Returning to Profit Abroad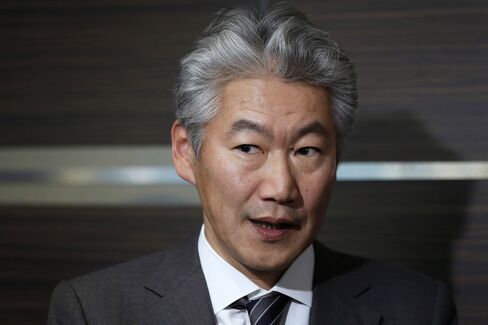 Nomura Holdings Inc. missed its goal of returning to profit outside Japan last fiscal year, people with knowledge of the matter said.
The pretax loss in Europe, the Americas and Asia for the year ended March was due to a one-time event and narrowed from 24.7 billion yen ($207 million) a year earlier, said the people, without identifying the event. Nomura will keep its target to earn 50 billion yen from overseas this year, the people said, asking not to be named before results due Thursday.
Shares of Nomura fell, erasing earlier gains. While Japan's largest brokerage has been embroiled in lawsuits overseas, it has benefited from a surging Japanese stock market that's bolstered earnings at home. Net income for Nomura as a whole rose in the three months through March from 61.3 billion yen a year earlier, according to the people.
"Although it looks negative to see that the company missed the target, I get the sense that the losses abroad are under control and won't be permanent," said Mitsushige Akino, an executive officer at Ichiyoshi Asset Management Co. in Tokyo. "At the same time, the restructuring has been too slow and they're still lacking growth drivers overseas."
An increase in fiscal fourth-quarter profit would mean Nomura beat the average estimate of 58.6 billion yen among eight analysts surveyed by Bloomberg.
Cost Cutting
Chief Executive Officer Koji Nagai set the goal of returning to profit abroad by March 2015 after taking the post in 2012 as he pledged to cut $1 billion of costs and trim staff, mainly from wholesale operations abroad. Smaller competitor Daiwa Securities Group Inc. on Tuesday said losses from outside Japan narrowed to 127 million yen in the fourth quarter.
Kenji Yamashita, a Tokyo-based spokesman for Nomura, declined to comment on the financial results. The company is scheduled to report earnings at 3 p.m. Thursday in Tokyo.
The shares fell 0.3 percent to close at 790.6 yen in Tokyo after earlier climbing as much as 1.3 percent. Nomura has gained 15 percent this year, in line with the Nikkei 225 Stock Average, which is close to a 15-year high.
Moody's Upgrade
The loss abroad would be the fifth in a row, after costs swelled following the firm's 2008 purchase of Lehman Brothers Holdings Inc. businesses in Europe and Asia. Nomura said on April 23 it shuffled management of its global markets division, appointing new heads for Europe and the U.S.
As recently as January, Chief Financial Officer Shigesuke Kashiwagi said he expects to achieve the goal of becoming profitable in Asia, Europe and the U.S. by March 31. A credit rating upgrade by Moody's Investors Service last October will enable Nomura to increase derivatives business and get more work from government agencies, he has said.
Nomura is involved in potentially costly lawsuits abroad. In the U.S., it is defending claims by the Federal Housing Finance Agency that it sold defective mortgage-backed securities to Fannie Mae and Freddie Mac before the 2008 financial crisis.
In Italy, prosecutors asked a Milan court to indict Nomura, Banca Monte dei Paschi di Siena SpA and their former employees for using an investment strategy to hide losses at Italy's third-biggest bank, people with knowledge of the request said last week. Paschi said earlier this month that it's considering raising damages claims against Nomura.
Before it's here, it's on the Bloomberg Terminal.
LEARN MORE