Chibok Schoolgirls Not Among Those Rescued by Nigerian Army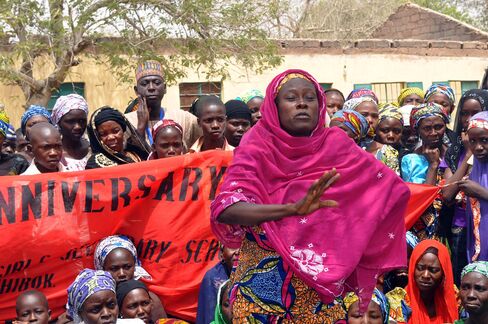 Nigeria's army said none of the hundreds of women rescued from a stronghold of the Islamist group Boko Haram are those kidnapped from the northeastern village of Chibok last year.
"They are not the abducted Chibok secondary school girls," Colonel Sani Usman, an army spokesman, said by phone on Wednesday from the capital, Abuja. The military is still processing those rescued and will inform the public of their identities in due course, he said.
The armed forces said on Tuesday it rescued 200 girls and 93 women from the Sambisa forest in northeastern Nigeria. They were abducted from the village of Bumsiri, Mohammed Bulama, the information commissioner for Borno state, told reporters on Wednesday.
Troops moved earlier this month into Sambisa forest, a Boko Haram hideout, in search of the Chibok schoolgirls, whose kidnap in April last year sparked global condemnation.
Boko Haram has kidnapped thousands of women over the past six years as part of a violent campaign, which has included mass killings, to impose Islamic law in Nigeria. At least 5,500 civilians have died since the start of last year, according to Amnesty International.
The capture of the Chibok girls last year prompted a social media campaign, championed by the likes of U.S. First Lady Michelle Obama, and widespread public anger at Nigeria's government for failing to locate or recover the girls. President Goodluck Jonathan, who bore the brunt of the criticism, was defeated in last month's election by former military dictator Muhammadu Buhari.
'Reason to Hope'
"The rescue of such a large number of girls and women is great news and reason to hope that more such rescues can be effected as the army moves deeper into the forest," Francois Conradie, a political analyst at NKC Independent Economists in Paarl, South Africa, said in an e-mailed note. "The attacks in other places, meanwhile, can be expected to continue as Boko Haram again becomes a terrorist movement on the run, rather than a rebel army."
Boko Haram leader Abubakar Shekau has said in videos posted on YouTube that the Chibok girls, many of them raised as Christians, have been converted to Islam and "married off" to fighters in the group.
Buhari, who's scheduled to be inaugurated as president on May 29, has vowed to crush the Islamist militants, while conceding that finding the students from Chibok may be impossible.
Nigeria has begun to turn the tide against Boko Haram with military help from neighbors including Chad, driving the group out of some of the areas it had seized in the northeast of the country.
"A lasting response to the Boko Haram problem will be a matter of economic policy as well as consistent policing across three states," said Conradie. "This will take years, during which time terrorism can be expected to persist in northeastern Nigeria."
Before it's here, it's on the Bloomberg Terminal.
LEARN MORE