Iran's Nuclear Past Won't Be Resolved by June, IAEA Says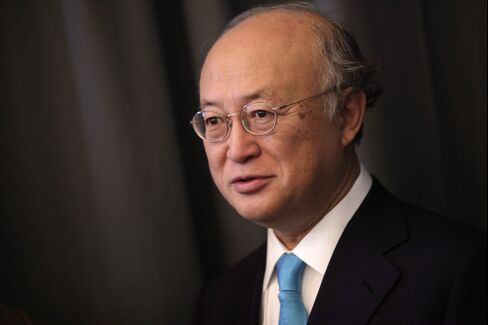 Iran and world powers may sign a comprehensive nuclear deal without questions over the Islamic Republic's past military-related work having been resolved, according to the world's top atomic agency.
International Atomic Energy Agency Director-General Yukiya Amano said he had urged Iranian Foreign Minister Mohammad Javad Zarif to "accelerate" his country's cooperation with investigators during a meeting a New York.
"Clarifying the possible military dimensions of Iran's past is essential," Amano said in an interview on Tuesday. "It is important to restore confidence" even if "it has never been a precondition for reaching an agreement," he said.
With the details of a final nuclear deal due by the end of June, Amano's IAEA is prepared to assume wider monitoring duties in Iran should an accord be struck. Skeptics of the emerging agreement have expressed concerns that the IAEA won't have the tools to prevent Iran from cheating.
To allay those doubts, Amano said it will be essential under any deal for Iran to implement the "additional protocol," the most powerful international legal instrument available to ensure countries don't develop nuclear weapons.
"We have the capabilities," said Amano, a 67-year-old former Japanese diplomat who took over the IAEA in 2009. "Right now we cannot use our capabilities fully and that is a problem."
Technical Upgrades
The IAEA currently rotates teams ranging from four to 10 inspectors on the ground in Iran. While it already has cameras and seals installed inside Iran's nuclear facilities, they could benefit from technical upgrades, according to Amano, who said the agency will need more money to implement a deal.
The IAEA chief's comments came as the Senate began debating legislation, which has gained President Barack Obama's backing, that empowers Congress to review any nuclear deal with Iran. Many members of the U.S. legislature share Israel's opposition to an accord, and say it would be premature to ease the sanctions that have squeezed Iran's economy.
While Iranian officials have demanded that all sanctions be lifted once an agreement is signed, resolving issues around Iran's past and present nuclear work remains critical to any lifting of sanctions, Amano said. U.S. officials said last month that sanctions relief will come in stages linked to IAEA monitoring and verification.
Weapons Research
"Sanctions will not be removed immediately," Amano said. "Agreement is agreement but implementation is another thing."
As for Iran's nuclear past, widely believed to include weapons research until at least 2003, Amano said that it will ultimately be up to the IAEA's governing countries to decide whether the Persian Gulf nation cooperated sufficiently.
"I am not saying that I can find out everything," Amano said. "We request Iran to be as transparent as possible," he said. "Our role is to provide facts and to help decision making."
Iran could help its case by allowing inspectors access to the Parchin military complex, where the IAEA suspects weapons-related research took place, Amano said. While previous IAEA trips to the facility in 2005 didn't yield anything suspicious, he said new information obtained by the agency justifies a return visit.
"It's a big military base," Amano said. "We have to have access to the right place -- in the past, we don't think we went to the right place."
Amano spoke on the day that Japanese Prime Minister Shinzo Abe visited Obama in Washington. The leaders issued a joint statement underlining the IAEA's role in maintaining global order.
"The IAEA safeguards system is a fundamental element" aimed at "preventing and addressing challenges to the global non-proliferation regime," according to the statement, which emphasized "the importance of maintaining the credibility, effectiveness and integrity of the IAEA."
Before it's here, it's on the Bloomberg Terminal.
LEARN MORE