Indonesia Executions Spur Australia to Recall Ambassador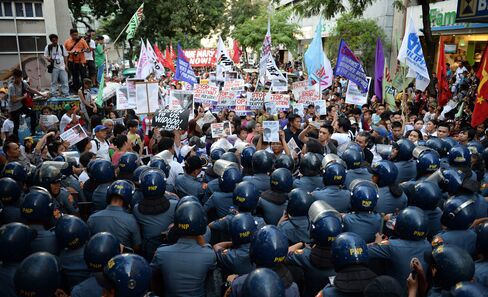 Indonesia executed seven foreigners including two Australians for drug smuggling, prompting Australia to recall its ambassador and warn the deaths had damaged relations.
Myuran Sukumaran and Andrew Chan, who were arrested for attempting to smuggle heroin out of Bali in 2005, were killed by firing squad along with three Nigerians, one Brazilian, a Ghanaian and an Indonesian. A Filipino due to be executed was given a reprieve.
Prime Minister Tony Abbott said Australia would take the "unprecedented" step of withdrawing its ambassador for consultations and called the executions cruel and unnecessary. Australia made more than 50 appeals for clemency and Abbott told reporters on Wednesday the men's deaths mark "a dark moment in the relationship" with Indonesia.
Indonesian President Joko Widodo, known as Jokowi, declined to comment on Australia's actions other than telling reporters on Wednesday that "this is our sovereignty."
The two countries have had prior episodes of friction that threatened to overshadow economic and strategic ties. Australia has been seeking to finalize a free-trade pact with Indonesia and the two cooperate on anti-terrorism measures and efforts to prevent people smugglers bringing asylum seekers to Australia by boat.
"Australia's making a point but it can't afford to escalate this further, because it doesn't have any leverage over Indonesia and the relationship is already brittle," said John Blaxland, a senior fellow at the Australian National University's Strategic and Defence Studies Centre in Canberra. "Abbott can't afford to let this moment become a defining one" with the nation's northern neighbor, he said.
No Mercy
Jokowi has allowed the death penalty for drug crimes after a pause under the previous government, and repeatedly said he wouldn't show mercy for smugglers. The government said in December it would put to death 64 convicts, including foreigners.
The eight condemned prisoners refused blindfolds and joined together in a chorus of Amazing Grace just after midnight, before their song was cut off by the crack of gunfire, the Sydney Morning Herald reported, citing Pastor Karina de Vega.
"We are not making enemies of those countries whose nationals were executed last night, but we are making an enemy of, and fighting, drug crimes," Attorney General Prasetyo told reporters on Wednesday. "This will be a warning. Those who want to carry out drug crimes will think about doing so 1,000 times because Indonesia will take a strong stand."
Dark Moment
Australian Trade Minister Andrew Robb, who is seeking to finalize the trade agreement with Indonesia, shelved a delegation to Jakarta ahead of the executions. Even so, Abbott said on Wednesday he regarded himself as a "friend" of Indonesia.
"While this is a dark moment in the relationship, I am confident that the relationship will be restored for the great benefit of both our countries," he said. "It's important that the relationship between the Australian government and the Indonesian government continues."
Two-way merchandise trade between Australia and Indonesia reached A$12.1 billion ($9.7 billion) in the year to June 30, 2014. Australia is a major importer of Indonesia's petroleum while Indonesia purchases its agricultural products including wheat and livestock.
Brazil Backlash
After Indonesia executed six people in January for drug crimes, Brazil and the Netherlands recalled their ambassadors to protest the death of their citizens. The shooting of the second Brazilian will have serious implications on bilateral relations and may impact commercial ties, President Dilma Rousseff said in a statement.
Filipino Mary Jane Veloso was spared after a person who allegedly recruited her as a courier went to the police in the Philippines on Tuesday. President Benigno Aquino had spoken with Jokowi on Monday in Malaysia -- where the two attended a regional summit -- to call for leniency, saying Veloso had been duped into carrying drugs.
"We're thankful that she's spared from execution," Veloso's mother Celia said on Manila-based GMA TV. "God has mercy." Aquino is "relieved and thankful like every one of us," his Communications Secretary Sonny Coloma said on the ABS-CBN news channel.
Veloso's execution has been postponed while Philippine authorities investigate the latest development, Jokowi said, according to Detik.
Prison Rehabilitation
Australia argued that Sukumaran and Chan showed remorse for their actions and had been involved in helping others in jail. Chan, 31, and Sukumaran, 34, were part of a group known as the Bali Nine caught carrying 8 kilograms (17 pounds) of heroin at Bali airport.
Sukumaran turned to painting after his imprisonment. Chan became an ordained Christian minister, with both men involved in rehabilitation programs for fellow prisoners.
Ministerial ties between Indonesia and Australia have been suspended and will remain that way "for a period," Abbott said. "We do deplore what's been done and this cannot be simply business as usual."
Ties between the nations were damaged in 2013 after the Australian Broadcasting Corp. reported that documents leaked by U.S. whistle blower Edward Snowden showed Australia tapped the phone of then-president Susilo Bambang Yudhoyono. Indonesia severed defense and people-smuggling pacts and the spat threatened to disrupt trade including cattle shipments from Australia.
East Timor
Last August the countries agreed to resume intelligence sharing and announced a code of conduct on military cooperation.
Relations previously soured during Sukarno's rule in the 1960s, and after Australian journalists were killed in the 1970s in what is now East Timor. Indonesia reacted angrily in 1999 when Australia led international military support to restore order in East Timor after it voted for independence from Indonesia.
"It seems that for Jokowi, a popular president but one who lacks outright majority political support, the execution of the death row inmates will help him retain the public's faith as many of his election promises have yet to materialize," the Jakarta Post newspaper, which supported Jokowi's election last year, said in an editorial on Wednesday.
Before it's here, it's on the Bloomberg Terminal.
LEARN MORE