Iceland Readies Law to Stop Currency Shock Before New Regime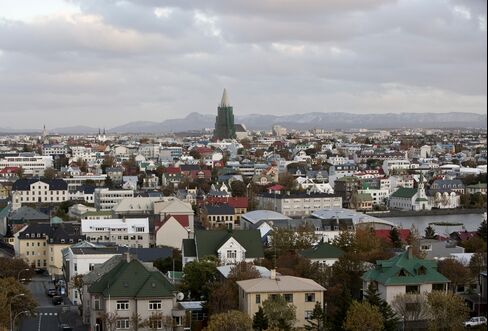 Iceland plans to create a set of laws to protect the island's financial stability as it moves closer to removing capital controls that are blocking almost $6 billion in assets from exiting its markets.
The country has already implemented a number of "prudential rules" and is working on others, including giving regulators the power to stop "excessive" capital inflows and to limit foreign-currency borrowing, said Sigridur Benediktsdottir, head of financial stability at the central bank in Reykjavik. So-called carry trades exacerbated the imbalances that led to Iceland's collapse seven years ago.
"By implementing prudential rules, which will be in effect after the capital controls' removal, financial stability can be maintained," she said by telephone last week. "These measures won't have a marked effect on the daily life of individuals or companies."
Iceland imposed capital controls following the $85 billion default of Kaupthing Bank hf, Glitnir Bank hf and LBI hf in 2008. The banking crisis sent Iceland's currency into a tailspin and forced the government to seek a $4.6 billion bailout led by the International Monetary Fund.
The krona rose 0.1 percent to 146.59 per euro as of 12:27 p.m. in Reykjavik.
Prime Minister Sigmundur David Gunnlaugsson said last month the government will target a "stability tax," due to be passed into law by the end of next month, which would generate "hundreds of billions of kronur and will, alongside other actions, allow the government to remove capital controls without jeopardizing economic stability."
Window Open
Iceland's government has so far hesitated to scale back the controls out of concern that it might trigger a currency crisis and undermine the island's financial stability. The central bank estimated last month that investors holding domestic assets of the failed banks could "make claims" on foreign-exchange revenue of about 500 billion kronur (3.7 billion), equal to 25 percent of gross domestic product.
A further 291 billion kronur in short-term assets were held by non-residents at the end of February, according to the bank.
Policy makers have said the current environment of low rates makes it a favorable time to unwind the controls. Benediktsdottir said the low-rate climate will probably last for some time, meaning the country is in no rush to lift its currency controls.
"Market expectations are that the low interest rate environment will continue for quite some time," she said. "The European Central Bank has said that interest rates will remain low for some time and that they'll even continue quantitative easing until September 2016. So when we say that there's a window open, that window is not about to close for some time to come."
Before it's here, it's on the Bloomberg Terminal.
LEARN MORE