Hong Kong Election Rules Fight Starts With 47% Poll Support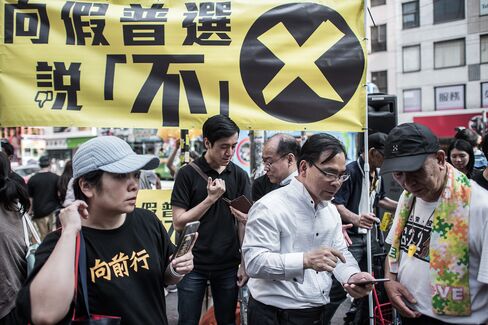 Almost half of Hong Kong backs China's terms for the city's first leadership election, suggesting the government's proposal may have broader support than pro-democracy lawmakers contend.
In a survey of 1,167 people commissioned by Now TV, 47 percent supported the proposal while 38 percent opposed it, the broadcaster said. The rest were undecided in the first poll conducted by three local universities since the bill was unveiled.
Lawmakers in Hong Kong are set to vote on a plan before the end of July, which will see citizens elect a chief executive from candidates screened by a China-backed committee. Pro-democracy lawmakers have pledged to veto the plan after tens of thousands of protesters clashed with the police last October to demand wider election rights.
"Public opinion remains deeply divided, roughly along 50/50 lines," said Sebastian Veg, director of the French Centre for Research on Contemporary China in Hong Kong. "If there is no consensus in society, pushing through reform by force can be very counterproductive."
Under the April 22 proposal, candidates for the 2017 election must be screened by a 1,200-strong committee, and there would be a maximum of three people who can stand. Chief Executive Leung Chun-ying needs support from four pro-democracy lawmakers to get a two-third majority to pass the bill.
Youth Movement
"We still have two months to go so we have to be prepared to see more of those opinion polls -- supporting both sides of the argument," said Jean-Pierre Cabestan, director of government and international studies at Hong Kong Baptist University. The government will be seeking to "demonstrate through opinion polls that the majority of Hong Kong people are supporting the package."
Should more polls show similar results, pressure will increase on legislators to support the bill, Cabestan said.
About 63 percent of those surveyed aged 18 to 29 years old opposed the bill, Now TV said. The margin of error for the entire poll was less than 1.6 percentage points in the poll conducted by the University of Hong Kong, the Chinese University of Hong Kong and the Hong Kong Polytechnic University.
The 79-day protest blocking key streets last year, popularly known as the Umbrella Movement, was led by students. While initially successful in garnering public support, the toll on businesses and traffic sapped the city's patience before the police swept exhausted protesters from the streets before Christmas.
'400 voters'
"Almost all of the teenagers are opposed to the plan," said Shania Chan, 18, who had taken part in the protests last year. "The older generation, like our parents, are opposed to our actions, this Umbrella Movement. They think it's illegal."
The government and pro-democracy lawmakers have started campaigns to win public support for their stance. An open-bus tour on April 25 by Hong Kong's No. 2 official Carrie Lam was disrupted by protesters.
If lawmakers fail to agree to the plan, Leung's successor would be picked by a committee of tycoons, lawmakers and industry representatives, the same system that's been in place since the last British governor left.
"I was chosen by 400 voters and yet, less than 20 years later, the people of Hong Kong could all be casting their vote for chief executive," said Tung Chee-hwa, referring to the 400-person committee that selected him as Hong Kong's first leader upon its return to China in 1997.
"That's a very quick development," Tung, a vice chairman of Chinese People's Political Consultative Conference, told reporters today. He urged legislators to "stand with the people of Hong Kong" and the government's proposal.
Before it's here, it's on the Bloomberg Terminal.
LEARN MORE