HBO 'Game of Thrones' Draws 18.1 Million Viewers in Debut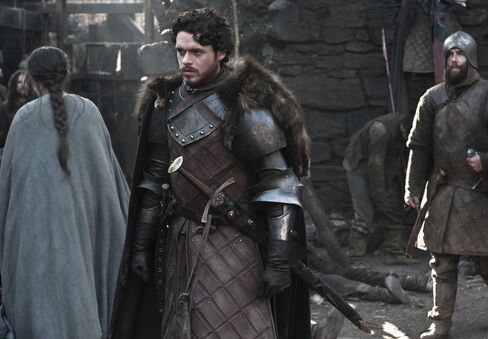 HBO's "Game of Thrones" attracted an audience of 18.1 million people in its fifth season premiere, including viewers who watched up to a week after the debut.
The audience for the April 12 return of the hit swords-and-dragons series increased by about 1.2 million viewers from last year's season premiere, HBO said in a statement Monday. The show averaged 19.1 million viewers per episode last season and was the most-watched of any HBO series.
Time Warner Inc.'s premium cable network said its data counted viewers who watched the premiere on traditional TV, those who watched later using a DVR or on-demand, and people who logged in online as many as seven days afterward. The network says that measurement captures its audience more accurately than traditional overnight ratings.
Nielsen reported 8 million viewers saw the debut on its opening day. Cable networks like HBO replay episodes of shows throughout the week and also make them available on-demand and online for subscribers.
Four episodes of the new season leaked online hours before the premiere. The pirated shows were downloaded more than 100,000 times to sites including The Pirate Bay, according to TorrentFreak, a website that covers piracy. HBO has said it's "actively assessing how this breach occurred."
Before it's here, it's on the Bloomberg Terminal.
LEARN MORE