Disney's 'Avengers' Already Global Smash Ahead of U.S. Debut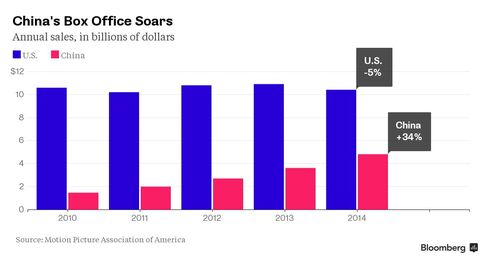 Walt Disney Co.'s "Avengers: Age of Ultron" is already raking in hundreds of millions of dollars overseas, even before opening in the two biggest movie markets, the U.S. and China.
Disney released the sequel, which is expected to be the biggest picture of the summer, in 44 countries last weekend, including the U.K., Germany, Russia and Australia. It's generated $200.2 million so far.
With markets outside the U.S. and Canada providing almost three-fourths of worldwide ticket sales, international has become an essential part of every studio's plans. Disney, based in Burbank, California, replayed its strategy from the 2012 "Avengers" hit, opening the film first outside the U.S. Sales rose 44 percent from the original, Disney said, with the biggest territories still to come.
"It opened well internationally," Bob Iger, Disney's chairman and chief executive officer, said Monday at the Milken Global Conference in Beverly Hills, California. "There's a lot of pent-up demand. I think it'll do really well."
While U.S. ticket sales are little changed over the past several years, the international box office has soared and accounted for 72 percent of the $36.4 billion worldwide total in 2014, according to the Motion Picture Association of America, a studio trade group. China's box office expanded 34 percent to $4.8 billion, driving the growth.
Worldwide Shoot
Shot in various locations around the world, from Bangladesh to South Africa and South Korea, "Avengers: Age of Ultron" underscores the growing importance of international fans. The film cost about $250 million to produce, according to Imdb.com, and many tens of millions more to promote, making success outside the U.S. crucial.
"The international marketplace is absolutely essential for the success of virtually all tentpole films released by the major studios," said Paul Dergarabedian, senior media analyst at Rentrak Corp. "In many instances, the international box office represents the lion's share."
The biggest weekend markets for "Avengers" were South Korea, with an estimated $28.2 million, and the U.K., where it produced $27.3 million, according to the studio. That's a record for South Korea, according to Box Office Mojo. The original "Avengers" opened with $25.7 million in the U.K.
China Option
The best growth opportunity for "Avengers" may be in China, where the film opens May 12, according to Doug Creutz, analyst at Cowen & Co. in San Francisco.
The first "Avengers" film produced $1.52 billion in worldwide sales, including $895 million outside the U.S. Of that total, just $86 million came from China, according to Box Office Mojo. The new "Age of Ultron" will exceed the first internationally and generate hundreds of millions in China, said Creutz, who has a neutral rating on Disney stock.
This year's biggest hit to date, "Furious 7," has produced $326 million in box office sales in China, exceeding the $320 million domestic total, Universal Pictures, said in an e-mail Monday.
Disney Prediction
Ticket sales from "Age of Ultron" in China are unlikely to top those in the U.S., Alan Horn, chairman of Walt Disney Studios, said at the Milken conference.
He predicted an opening weekend of $190 million to $200 million in the U.S. and a domestic run of more than $500 million if the film hits that level in its debut.
Sequel films often outperform originals outside the U.S., Creutz said. One issue for Disney and all studios marketing films internationally is the strong dollar, which will crimp receipts.
"Everyone knew Ultron would do well, but the question is how well it will do?" Creutz said.
Japan, Spain
"Age of Ultron" still has other big foreign markets to tap, including Spain, Mexico and Japan, the world's No. 3 behind the U.S. and China.
The film opens in the U.S with previews on Thursday. AMC Entertainment Holdings Inc. sold out Ultimate Marvel Marathon 2015 events in four U.S cities. Fans can watch all 11 Marvel Cinematic Universe Movies in one sitting, from the 2008's "Iron Man" to "Guardians of the Galaxy," culminating with a screening of "Avengers: Age of Ultron" at 7 p.m.
Home Turf
The new Marvel film is forecast to outdraw the first "Avengers" installment in its debut and set a record for a weekend opening, with BoxOffice.com predicting $214 million. It's not expected to overtake the predecessor in total domestic revenue, with BoxOffice.com forecasting $535 million. The first "Avengers" collected $623 million in its full domestic run, according to Box Office Mojo.
Advance ticket sales in North America are running almost four times greater than the 2012 "Avengers" release and almost five times those of "Iron Man 3" from 2013, according to Movietickets.com.
"We will have to wait and see if it has the same legs as the first," Creutz said. "The reviews are good but not as good as the first film."
Before it's here, it's on the Bloomberg Terminal.
LEARN MORE