Daimler Profit Surges 41% as Sales Gains Beat Growth at Rivals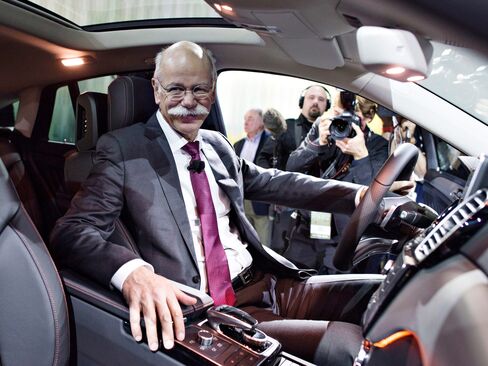 Daimler AG's first-quarter operating profit surged 41 percent, beating analysts' predictions, as demand for Mercedes-Benz models such as the C-Class sedan grew at a faster pace than sales at luxury-car industry rivals.
Earnings before interest and taxes from ongoing business rose to 2.93 billion euros ($3.19 billion) from 2.07 billion euros a year earlier, Stuttgart, Germany-based Daimler said Tuesday in a statement. Profit exceeded the 2.69 billion-euro average of seven analyst estimates compiled by Bloomberg. Revenue jumped 16 percent to 34.2 billion euros.
Daimler Chief Executive Officer Dieter Zetsche has a goal for Mercedes to overtake premium-car sales leaders BMW AG and Audi by the end of the decade and boost profitability to 10 percent of revenue. The strategy includes widening the lineup, especially with sport-utility vehicles. Daimler outlined plans Tuesday to spend 25 billion euros on new models and production capacity through 2016.
"Sales as well as earnings clearly beat expectations and Daimler delivered a very strong result across the board, including at its truck and van units," Juergen Pieper, a Frankfurt-based analyst with Bankhaus Metzler, said by phone. "The investment program shows they're keen to continue on this path."
Daimler rose as much as 3.5 percent, the steepest intraday gain since March 11, and was trading up 2.5 percent at 91.78 euros as of 9:19 a.m. in Frankfurt. The stock has increased 33 percent this year, valuing the company at 98.2 billion euros.
Mercedes Margin
First-quarter Ebit at the Mercedes-Benz Cars division, which also includes the Smart city-car brand, jumped 56 percent to 1.84 billion euros, with the return on sales widening to 9.2 percent from 7 percent a year earlier. The unit has long had a 10 percent target for the margin, though Zetsche stopped setting any deadline for the measure in 2012 after years of missing the goal.
The Daimler Trucks unit, which builds Mercedes and Freightliner commercial vehicles, posted a 38 percent gain in Ebit to 472 million euros, with the return on sales increasing to 5.6 percent from 4.8 percent. Earnings at the Mercedes-Benz van business surged 75 percent to 215 million euros, and the margin widened to 8.9 percent of revenue from 5.6 percent.
"We're approaching our profitability targets step by step, for all divisions," Chief Financial Officer Bodo Uebber told journalists on a conference call. "We're getting much closer to reaching our strategic target" at Mercedes-Benz Cars.
Keeping Forecast
Daimler stuck to a forecast for earnings from ongoing business to rise significantly this year. The company is bringing out four new or revamped SUVs in 2015 and plans to begin selling the GLC coupe compact SUV, an all-new vehicle, next year.
The Mercedes nameplate's first-quarter deliveries increased 15 percent, outpacing single-digit gains at BMW's namesake brand and Volkswagen AG's Audi. Demand jumped 44 percent for mid-size C-Class models, including the SLK roadster, 25 percent for compact vehicles and 32 percent for SUVs.
"Our growth strategy, our product offensives and our efficiency programs are paying off," Zetsche said in a separate statement. "We have already achieved a lot, we look to the future with great confidence, and we aim to achieve even more."
Before it's here, it's on the Bloomberg Terminal.
LEARN MORE