Century-Old Cotton Law Stymies ICE Plan for Global Contract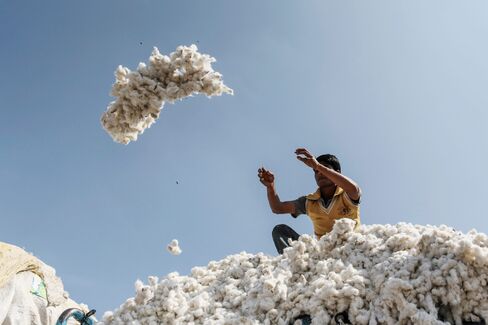 A U.S. law dating back to World War I is thwarting Intercontinental Exchange Inc.'s bid to expand its share of global cotton trading.
ICE, whose New York futures for domestic cotton are valued at $6 billion, first said in 2013 it planned to list another contract, with fiber coming from as many as nine countries and deliverable in three. The problem: the Cotton Futures Act of 1916 requires anything listed in America to be inspected and graded by the U.S. Department of Agriculture.
Such an examination doesn't make sense for something that may be grown abroad and which might never reach the U.S., said Ben Jackson, the president and chief operating officer of ICE Futures U.S. A bill to amend the law didn't make it past the Senate last year, and he said failure to get one reintroduced in Congress in the next few months may force the bourse to look at listing the new product in London or Singapore.
"When the Cotton Futures Act was written it was for the New York Cotton Exchange literally 100 years ago," said Jordan Lea, the president of the Liverpool, England-based International Cotton Association, referring to the historical owner of the contract that started trading in 1870. "The supply-demand situation in the U.S. doesn't mimic the world market."
While the U.S. is world's biggest cotton shipper, it only accounts for about a third of global trade, with the bulk of remaining exports split among nations including India, Brazil and Australia. Industry merchants have asked for a global contract that better reflects a world price, said Andrei Guitchounts, director of trade analysis at the Washington-based International Cotton Advisory Committee.
Global Benchmark
"Seventy percent of the market doesn't have price discovery or a futures contract to hedge," Guitchounts said this month. "That's why there is a need for a more universal instrument. The need is becoming stronger especially when you have a lot of volatility in the market."
Even without the law, successfully introducing new commodity contracts is notoriously difficult. The New York Cotton Exchange, which became part of ICE, listed a cash-settled world contract in the 1990s and withdrew it a few years later amid low volumes.
Competing futures-market owner CME Group Inc.'s Black Sea wheat contract has attracted little trading since starting in 2012. Euronext this month suspended malting barley contracts in Paris after open interest dropped to zero, and the London Metal Exchange delisted plastics contracts in 2011, about six years after they were introduced.
Planned Contract
ICE first said two years ago it planned the new global contract to trade alongside New York futures. It plans to accept cotton grown in the U.S., India, Brazil, Australia, Benin, Burkina Faso, Cameroon, Ivory Coast and Mali. Delivery would be to the U.S., Australia and Malaysia.
Cotton rose 11 percent this year to 66.78 cents a pound in New York. Open futures contracts for the commodity on ICE are valued at $6 billion, second to the $6.3 billion for the fiber on China's Zhengzhou Commodity Exchange. It trades in India in smaller volumes.
The Cotton Futures Act amendment now needs to go back to Congress for ICE's contract to list in the U.S. Lynn Westmoreland, a Georgia congressman who backed the bill in the House of Representatives last year, still considers changing the law a priority, although legislation hasn't been reintroduced, spokeswoman Leigh Claffey said last month.
"The pace of getting this listed has been slow," said the ICA's Lea, who's also chairman of Greenville, South Carolina-based Eastern Trading Co. "We've only got one chance to get it right. The market is not going to be very forgiving around a contract that is listed and needs to be improved."
Before it's here, it's on the Bloomberg Terminal.
LEARN MORE