Bush Pilots Tout $16,000 Adventures as Australian Mines Shut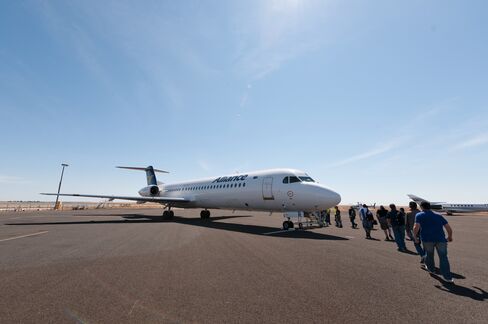 Three years ago, Scott McMillan bought a Fokker 70 jet to fly workers to sites including BHP Billiton Ltd.'s Olympic Dam, Australia's largest underground mine. He's now taking U.S. retirees on outback adventures that cost almost $16,000 a head.
McMillan, managing director of Alliance Aviation Services Ltd., hopes tourism revenue will help reverse a slide in earnings since the company listed in 2011 as a provider of flights to the mining industry. He's thinking along the same lines as Reserve Bank of Australia Governor Glenn Stevens, who hopes tourism can help offset slumping resources investment.
As Australia's decade-long, $1 trillion commodities boom collapses, businesses built to support mining companies and their workers are reinventing themselves to survive. Carriers such as Alliance and Qantas Airways Ltd. are tapping demand from tourists, who want to visit far-flung sites from the Great Barrier Reef to Uluru, the monolith previously known as Ayers Rock.
"As the economy's changed, we've got to change with it," Alliance's McMillan said by phone from Brisbane. "There just aren't any big new mining projects being developed in Australia."
Holidays overtook gold as Australia's fifth-biggest export last year, with export revenue from leisure travel rising 8.5 percent to A$14.29 billion ($11.3 billion), according to government data. International tourist arrivals rose 8.2 percent to 6.8 million in the year to September.
Bucket Lists
Retiring baby-boomers seeking to tick items off their bucket lists are flocking Down Under. Saga Plc, a British provider of insurance, travel and healthcare to travelers over age 50, plans to offer as many as 11 annual tours in Australia by autumn 2016, up from eight last fiscal year, spokeswoman Naomi Thornton said by e-mail.
It's using flights operated by Qantas's rural airline QantasLink to move tourists from Perth to Uluru and on to Cairns to visit the Great Barrier Reef.
By road, the first leg of that journey alone would mean a 38-hour, 3,700-kilometer (2,300-mile) drive through the desert. By plane, it's further than a London-to-Warsaw flight.
Traveling to Australia is "a long journey, but it's been worth every minute," said Don Bradley, a 73-year-old Brit on a 19-day, 4,000 pound ($6,070) Saga tour to celebrate his 50th anniversary with wife Carol. "I don't doubt I'll be asked to bring her out here again."
Far-Flung Destinations
Qantas shares fell 1.8 percent to A$3.24 in Sydney, their lowest closing price in three weeks. Virgin Australia Holdings Ltd., which spent A$114 million buying mine-flight operator Skywest Airlines Pte. in 2013, tumbled 2.9 percent to 51 Australian cents, their biggest drop in more than two weeks. Alliance shares didn't trade.
Faster economic growth abroad is helping Australia's cause. The U.S. recovery has the "most profound impact" on travelers' desire to visit far-flung destinations, according to Jeremy Palmer, vice-president of land-based journeys for Tauck Inc. The Norwalk, Connecticut-based tour company is chartering a Fokker 70 small jet and Fokker 50 turboprop from Alliance to ferry groups around Australia and New Zealand.
This isn't the first time Australia's airlines have had to adapt to changes in the economy.
"The early airlines stayed alive on their ability to win and maintain mail contracts" rather than passenger traffic, Robert Lee, author of "Transport: An Australian History," said by phone from Adelaide. Qantas's first scheduled service in 1922 was a mail flight between the outback Queensland towns of Charleville and Cloncurry, as was its first "kangaroo route" flight to Europe in 1935.
Roster Changes
Airlines moved into fly-in-fly-out mining during the 1980s and 1990s, as the cost of building remote work camps rose and mining companies cut their wage bills by tapping urban labor markets, according to a 2013 government report. Miners would work as many as 14 consecutive days on-site before flying home for a week of rest.
By 2012 there were 33,100 fly-in-fly-out workers in the Pilbara iron-ore producing region, according to the report, equivalent to about two-thirds of the area's total population.
That growth is starting to reverse as lower commodity prices force job cuts and work changes.
In Cloncurry, birthplace of Qantas and the Royal Flying Doctor Service, Glencore Plc is halving the number of Alliance charters to the Ernest Henry copper-gold mine, the airline said in December.
Ningaloo Reef
In the Bowen Basin coal-mining region 850 kilometers to the southeast, QantasLink has cut the number of weekly return flights serving the town of Emerald to 33, from 45 in 2012. Qantas's mine-flight operator Network Aviation retired seven of its 19 aircraft last year and is using half of those left to service tourist destinations such as Ningaloo Reef, according to a spokeswoman.
Fortescue Metals Group Ltd., the world's fourth-largest iron ore miner, said April 14 it would change its work roster to save money. A miner working for 52 weeks without leave would make about 17 return flights under the new schedule, rather than the current 26.
Alliance's McMillan hopes to dedicate four of his 30 planes to tourism within the next year. That's a change from 2011, when tourism wasn't even mentioned as a possible business in the company's initial public prospectus. Seizing a new opportunity is just part of running a charter airline, McMillan said.
"When Cyclone Pam was coming toward Vanuatu we got a call from a tour leader wanting to get his group out," he said. "We said, 'Sure. Can we get an Amex?'"
Before it's here, it's on the Bloomberg Terminal.
LEARN MORE