Bangladesh Gridlock Stays as Opposition Boycotts Mayor Race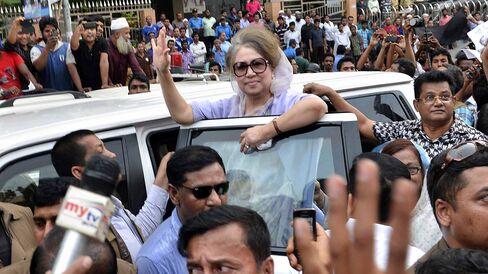 Just when you thought Bangladesh was breaking its seven-year political gridlock, it's back to square one.
Khaleda Zia's Bangladesh Nationalist Party pulled out of a mayoral race hours after voting began, alleging rigging by Prime Minister Sheikh Hasina's Awami League. The polls would have been the first time the parties have gone head-to-head since 2008.
"It was a farce, a mockery of democracy," BNP leader Moudud Ahmed said at a press briefing in the capital Dhaka. The party's workers were driven away or detained by police and voters were prevented from reaching polling booths, he said.
Tuesday's withdrawal is another chapter in a long-running battle between the women. Zia, a former prime minister, had boycotted the national election last year after accusing Hasina of authoritarianism. The BNP's nationwide strikes have damaged the economy and led to deadly violence.
"The boycott has brought back signs of political turmoil ahead," said Khondaker Golam Moazzem, additional director of research at the Dhaka-based Centre for Policy Dialogue. Its seriousness will, however, depend on the BNP's intra-party strength, he said.
More than 120 people have been killed so far this year, putting it on pace to be Bangladesh's deadliest since three million lives were lost during an independence fight in 1971. The World Bank estimates that the political unrest has cost the $187 billion economy about $2.2 billion in losses.
Slowing Growth
Garment-industry executives have run their factories below capacity and purchasers are scaling back orders as the instability affects the availability of raw materials. The apparel industry accounts for about 80 percent of Bangladesh's exports.
Economic growth this fiscal year is projected to slow to 5.6 percent, compared with 6.1 percent in the previous 12 months, according to the World Bank. An index tracking Bangladesh's stocks has fallen 8.6 percent this year.
"We are disappointed by widespread, first-hand, and credible reports of vote-rigging, intimidation and violence that have occurred at polling stations today, and the BNP's decision to boycott the city corporation polls," the U.S. embassy in Dhaka said in a statement.
The British High Commissioner expressed his disappointment at the BNP boycott and sought a swift and impartial investigation into the allegations of rigging, the High Commission said in a statement.
'BNP's Conspiracy'
The mayoral elections are being fought in three city corporations: two in the Dhaka and one in the port city of Chittagong. While the polls are supposed to be non-partisan, both major parties are backing candidates.
Hasina's party is backing Annisul Huq, owner of the Dhaka-based Mohammadi Group that sells clothes to global chains such as Esprit Holdings Ltd., Sears Holdings Corp. and Wal-Mart Inc., according to the company's website.
Dhaka itself hasn't held an election since the five-year term of the last elected administration ended in 2007. The capital was split into two parts in 2011.
Zia's first campaign in years hadn't been easy. She was attacked three times on the campaign trail, most seriously on April 20 when an unidentified mob struck her motorcade with iron rods, wooden sticks and bricks, injuring three and damaging several vehicles. On Sunday, she had vowed retaliation if the polls were rigged.
"The BNP came to the election with a motive and knew it would leave the polls early," Muhammad Abdur Razzaque, an Awami League leader, said at a briefing in Dhaka. "It's BNP's conspiracy to project Bangladesh as a failed state."
Battling Begums
Hasina and Zia come from political families that have alternated in power for almost all of Bangladesh's history. They're referred to locally as the "Battling Begums," or high-ranking Muslim women, reflecting their constant fights ever since they jointly overthrew a military leader in 1990.
Hasina's father founded the ruling Awami League, which took power after independence and promotes a secular democracy. Zia's husband, the country's first military ruler, started the BNP, which has called itself the "Islamic consciousness" of the Muslim majority.
"It's suicidal to be away from electoral politics for a very long time," Ahsan H. Mansur, executive director of the Dhaka-based Policy Research Institute, said in an e-mail before the voting began. "It will not be easy for the BNP to galvanize its political base."
Before it's here, it's on the Bloomberg Terminal.
LEARN MORE