America Movil Margins Squeezed in Mexico by Tougher Rules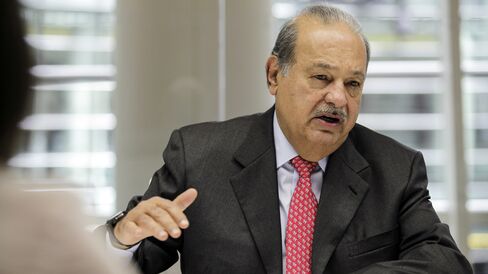 Mexican consumers' growing selection of cheaper telecommunication plans is making America Movil SAB's biggest market less profitable.
Billionaire Carlos Slim's carrier is seeing margins shrink in its home market, where it has cut prices to compete with operators such as Grupo Televisa SAB and Telefonica SA on Web and landline bundles and prepaid mobile-phone plans. Margins in Mexico, where America Movil serves seven of 10 mobile-phone subscribers and eight of 10 landlines, fell to 41.7 percent in the first quarter from 44.4 percent a year earlier, the lowest since 2013.
Rivals are taking advantage of new rules including one that lets them connect calls to America Movil's network without paying a fee. The elimination of domestic roaming charges as of Jan. 1, part of President Enrique Pena Nieto's industry overhaul, is also crimping margins at the company, which booked gains of $200 million for roaming in the first quarter of last year.
"We're seeing a very limited growth tendency" in Mexico because of regulatory measures and "competition that's intensified by the entry of very strong players," said Montserrat Anton, an analyst at Invex Casa de Bolsa SA in Mexico City.
Work in Progress
America Movil has yet to present an asset breakup plan that it announced in July after a telecommunications law signed last year forced dominant phone and broadcast companies to reduce their market share below 50 percent or face antitrust penalties designed to curb profits.
"We are interested in divesting and reducing our market share, but we don't know exactly how we want to do it," Daniel Hajj, America Movil's chief executive officer, said on an April 24 conference call with analysts.
A press official at America Movil declined to comment on the company's plans to remove its dominant status.
AT&T, which was said to be a potential buyer of some of America Movil's assets, instead is buying competing units -- NII Holdings Inc.'s Nextel Mexico business and Grupo Iusacell SA. That has prompted an intensified battle for Mexico's consumers.
"The entry of new operators with fresh capital and shared infrastructure could translate into important disconnections mostly in the prepaid segment" for America Movil, said Carlos de Legarreta, an analyst at Corporativo GBM SAB, in a note last week. About 86 percent of America Movil's wireless subscribers in Mexico are prepaid.
Prices Slide
Prices for mobile-phone service slid 17 percent through January from last year's second quarter, telecommunications regulator IFT reported last month. The drop began after the elimination of charges for operators to connect to America Movil's network, the nation's most used.
Mexico accounted for about 41 percent of America Movil's profit in the first quarter, minus interest, taxes, depreciation and amortization, down from 46 percent a year earlier. Brazil is the company's second-biggest market.
Shareholders approved a spinoff of 10,800 wireless towers in Mexico this month, creating Latin America's second-largest renter of tower space. The new Telesites company, which will rent towers to America Movil and other operators under the plan, should start operating in July, Chief Financial Officer Carlos Garcia-Moreno said on the conference call last week.
While the spinoff doesn't reverse America Movil's dominance in the phone business, it's letting the company separate the services and infrastructure businesses, which will give value to its assets, according to Gerardo Cevallos, an analyst at Vector Casa de Bolsa SA. America Movil's return on assets has dropped for three straight quarters to the lowest since 2002, according to data compiled by Bloomberg.
To shore up its margins, America Mobil has reduced subsidies on mobile phones and is looking for other ways to cut costs, Cevallos said in an interview.
"The regulation is what's motivating them," he said.
Before it's here, it's on the Bloomberg Terminal.
LEARN MORE