Alliance Trust Strikes Late-Night Deal to End Hedge Fund Battle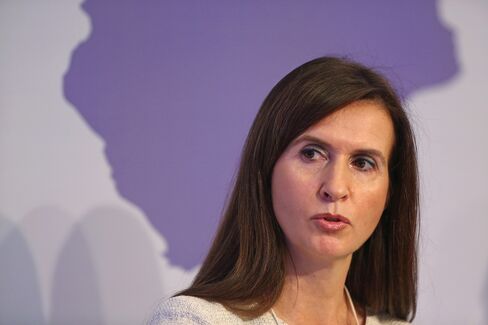 Alliance Trust Plc struck a late-night deal with its largest shareholder, Elliott Advisors, to expand the board in a bid to avoid a public showdown at its annual general meeting in Scotland.
The deadline for shareholders to vote on Elliott's proposal by proxy expired on Monday with the result so close as to force an agreement, two people with knowledge of the firms said on Tuesday. Both companies had maintained a dialog throughout the six-week battle, said the people, who asked not to be identified because the negotiations were confidential.
"This is a sure sign that having seen the scale of proxy votes from shareholders mounting up in favor of a shakeup, the board has rightly determined compromise is better than a very public defeat," said Jason Hollands, managing director at Tilney BestInvest, which last week backed Elliott.
Alliance Trust Chief Executive Officer Katherine Garrett-Cox had faced mounting pressure from shareholders and corporate advisers to consider the $25 billion hedge fund's proposal and had been forced to defend herself against charges of being overpaid for underperformance.
Facing a potential defeat, the 127-year money manager agreed Monday night to name Anthony Brooke and Rory Macnamara as directors -- two men the board and the CEO had previously rejected on the grounds that they couldn't be deemed independent and may try to bring "undue influence."
'Substantial Retreat'
Elliott had also wanted Peter Chambers, the former CEO of Legal & General Investment Management, to join but instead agreed to allow Alliance Trust to continue its own search for a third independent director. The company, with a market value of 2.9 billion pounds ($4.4 billion), will have a 10-member board.
"This is a substantial retreat for Alliance Trust," said Darius McDermott, managing director of Chelsea Financial Services, which advises retail investors. "To have backed down last minute shows they were either going to lose the vote or it was close enough that would have caused them future pain. The position of senior management has been weakened."
Elliott, which owns 12 percent, withdrew all three resolutions before Wednesday's AGM in Dundee, Scotland, and agreed not to "seek to agitate" publicly until after next year's meeting. That gives the board at least a year to address the issues raised, including the trust's 12.6 percent discount to net asset value, which is more than double the average of its peers.
Deal Praised
"We have worked with Elliott to find a compromise which we believe is in the best interests of all our shareholders," Chairman Karin Forseke said in a statement Tuesday. "I would like to express my gratitude to our shareholders for engaging with us on this important issue."
Elliott also endorsed the settlement. "We believe that this is in the best interests of all shareholders," the hedge fund said in a statement.
The shares were unchanged at 519 pence at 12:05 p.m. in London, and are up 8.5 percent this year. Elliott first bought a stake in Alliance Trust in 2010, when the shares traded for as little as 261 pence.
Both sides waged expensive campaigns to win over shareholders, about 70 percent of whom are individuals, including hiring public relations firms and setting up competing websites and helpline services. Elliott had even hired Numis Corp., Alliance Trust's former broker.
The hedge fund, whose Alliance campaign was run by London-based Jonas Rydell and Mark Levine, had won the backing of influential corporate governance advisers Institutional Shareholder Services Inc. and Pensions & Investment Research Consultants Ltd.
They, along with former Alliance Trust director Tim Ingram, accused the board of "failing to challenge the status quo" and questioned the pay of Garrett-Cox.
Alliance Trust said Tuesday that Elliott has committed to support the board and management on all other resolutions being forward for a vote, including compensation.
Garrett-Cox was paid 1.3 million pounds last year. Her fixed compensation of 567,000 pounds was more than 50 percent higher than the average of a financial-services company on the FTSE 250 Index, according to ISS.
Before it's here, it's on the Bloomberg Terminal.
LEARN MORE