U.K. Bonds Sidestep Pre-Election Risk Beating Euro Debt Under QE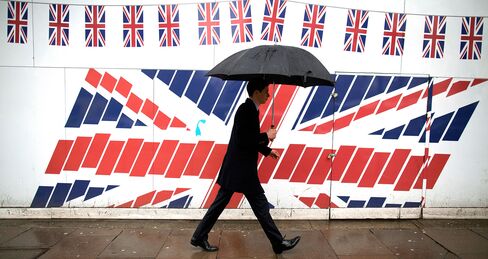 Barely a week before an election that looks set to produce no clear winner, the U.K.'s bond market is showing few signs of investor concern.
The May 7 election is forecast in opinion polls to be the closest-run in a generation, raising the prospect of prolonged talks to form a government and even leaving Britain with its first minority administration since the 1970s. Yet while the 10-year yield rose Monday, it's lower than at the start of the year and less than 0.4 percentage point off a record low reached in January.
"There hasn't been a great deal of movement," said John Wraith, head of U.K. rates strategy at UBS Group AG in London. "Because there's such uncertainty, it's a case of people not taking on more risk and staying close to home."
U.K. government bonds have also outperformed all of their euro-region peers since the European Central Bank started its quantitative-easing plan on March 9, even as the institution pumps 60 billion euros ($65 billion) a month into the currency bloc's debt markets.
The 10-year gilt yield increased five basis points, or 0.05 percentage point, to 1.69 percent as of 4:53 p.m. London time. The 5 percent bond due in March 2025 dropped 0.50, or 5 pounds per 1,000-pound ($1,523) face amount, to 129.895.
The yield touched an all-time low of 1.33 percent on Jan. 30 and ended last year at 1.76 percent.
Stronger Pound
While opinion polls remain split, the pound jumped against the dollar Monday after one showed the Conservatives six percentage points ahead of the opposition Labour party. Sterling gained 0.3 percent to $1.5226 and remained little changed at 71.53 pence per euro.
The survey by former Conservative party Deputy Chairman Michael Ashcroft gave David Cameron's party 36 percent of the vote, ahead of Labour's 30 percent. A Populus poll released earlier on Monday had Labour at 36 percent and the Conservatives at 33 percent.
Gilts have returned 3.4 percent since the start of the ECB's debt-buying plan, according to Bloomberg World Bond Indexes. German securities have returned 1.9 percent, while Spain's dropped 0.3 percent.
Before it's here, it's on the Bloomberg Terminal.
LEARN MORE