Sudan's Al-Bashir Extends Rule as He Wins 94 Percent of Vote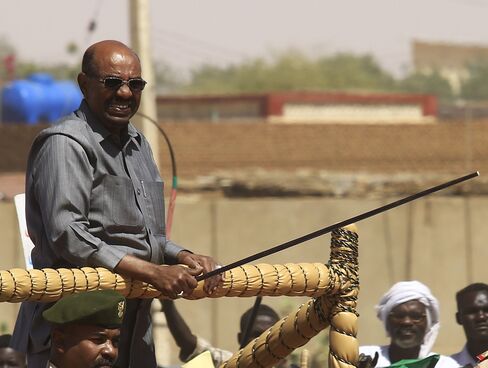 Sudanese President Umar al-Bashir won 94 percent of the vote in an election boycotted by the main opposition parties, extending his quarter-century rule over the North African nation.
Al-Bashir, 71, received about 5.2 million votes, election official Mokhtar al-Assam said at a briefing in the capital, Khartoum, broadcast on national television. Turnout was 46.4 percent, higher than the 30 percent to 35 percent estimated by an African Union observer mission, he said. The ruling National Congress Party won 323 of the 426 seats in the national assembly, according to al-Assam.
"I salute everyone who voted for me, or even for another candidate because that is their constitutional right," al-Bashir told a televised victory rally in Khartoum on Monday, after dancing and waving his cane.
Al-Bashir, indicted by the International Criminal Court for alleged crimes against humanity during Sudan's decade-long Darfur conflict, took power in a 1989 coup. He won a 2010 presidential election, the legitimacy of which was questioned by international observers, including the European Union.
The latest vote, originally scheduled for April 13-15, was extended a day to allow the largest possible electorate, according to officials. Al-Bashir was widely expected to win after the main opposition parties declined to field candidates, leaving more than a dozen little-known figures to compete.
Vote Criticized
Sarah Naqd-Allah, secretary-general of the opposition National Umma Party, said the figures on voter turnout "weren't real and have been made up" by the electoral commission. "Actual turnout ranges between 16 percent and 20 percent," she said by phone from Khartoum.
The U.S., U.K. and Norway last week criticized the vote, saying Sudan's government had failed to "create a free, fair and conducive elections environment." The Intergovernmental Authority on Development, a bloc of East African nations, said on April 17 that polling was "conducted in uniformity with international benchmarks for free, fair and credible elections."
"The vote for Bashir is a largely negative vote, born out of apprehension towards a future where Sudan might face similar convulsion" as other countries in the region, Magdi El-Gizouli, a fellow at the Rift Valley Institute, a Nairobi-based research group, said in an e-mailed response to questions before the result was announced.
Candidates have an opportunity to appeal, after which final results will be announced on May 19, al-Assam said. The winner will be sworn in on June 2.
Before it's here, it's on the Bloomberg Terminal.
LEARN MORE