Straight-Talking Teva Boss May Find Mylan Toughest Target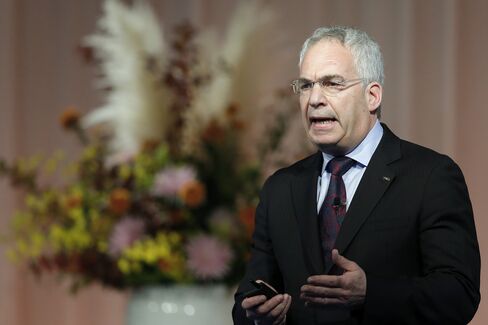 There's a bit of slang colleagues often alight upon when describing Teva Pharmaceutical Industries Ltd. Chief Executive Officer Erez Vigodman: "dugri," a word Israelis use to describe straight talkers.
To persuade Teva's board to give him the top job at the world's biggest maker of generic drugs a little over a year ago, Vigodman didn't try to downplay his lack of industry experience. Instead, the former accountant wooed each director with charts about his strategy and track record for having put two prior employers, Strauss Group Ltd. and the agro-chemicals behemoth Makhteshim-Agan Industries Ltd., back on the growth track.
"He's a straight shooter," said Dan Suesskind, who was Teva's chief financial officer for three decades and spent four years on the board with Vigodman. "When you talk to him, you know that what you see is what you get."
The 55-year-old Israeli executive's direct approach will come in handy as he tries to persuade Mylan NV's board to back Teva's $40.1 billion unsolicited takeover offer -- a plan the U.S. drugmaker has dismissed as lacking "sound industrial logic." Mylan is moving forward with its own hostile $31.2 billion bid for Perrigo Co., saying Friday it will take the offer directly to Perrigo shareholders.
'Clumsy' Process
Vigodman, who speaks in short sentences without breaking eye contact, has shown before that he can bring warring factions to the negotiating table. When he faced a skeptical board at Strauss a decade ago over a proposal to invest in a Brazilian coffee venture, he invited executives who viewed the deal as too risky and encouraged them to voice their doubts in a directors' meeting, according to Chairwoman Ofra Strauss. Then he mowed down their arguments one by one over the course of several hours of discussions.
"Erez has a keen ability to get all sides of the deal to feel they can win with him," Strauss said.
Not everyone was impressed with Vigodman's Mylan approach. As speculation grew in the weeks before Teva's offer, the company sent "mixed messages," hinting at a deal but telling analysts including Ronny Gal at Sanford C. Bernstein & Co. that there was "nothing on the table." That approach allowed Mylan's stock to gain 19 percent in the two months before the offer, making a purchase more expensive.
"The Teva process has been clumsy and does not inspire confidence," Gal wrote on April 23 about Teva's $82-a-share offer for Mylan. "An offer when Mylan was at $55 could have potentially closed at $80. Instead, it chose to bid only after Mylan made an offer for Perrigo, which feels like an attempt to catch Mylan before it becomes unavailable."
Another critic is Mylan Chairman Robert Coury, who met with Vigodman on Friday and on Monday rejected Teva's offer in a letter critical of the Israeli company's internal culture and the CEO.
"For the sake of your current and future shareholders, employees, patients, customers, communities and other stakeholders, I do hope you find a way to eventually change Teva's culture and establish credibility in your business dealings," Coury told Vigodman in the letter. "However, we do not wish to make Teva's problems Mylan's problems."
Teva responded a little more than an hour later with a statement reiterating its argument for a purchase, including annual synergies of about $2 billion from the combination of complementary assets, as well as tax savings.
Seeking Growth
Vigodman took over at Teva in February 2014 with a mandate to find new avenues of growth as the company's best-selling medicine, a branded treatment for multiple sclerosis called Copaxone, faced potential competition from lower-priced copies. After focusing last year on reducing expenses and boosting cash flow, he's now looking for acquisitions to fill the hole that Copaxone will leave.
The CEO made his first sizeable deal March 30, when he announced the $3.5 billion purchase of Auspex Pharmaceuticals Inc. The La Jolla, California-based company will give Teva experimental drugs to curb tics and other movement disorders, bolstering its lineup of branded treatments aimed at ailments of the central nervous system. Under Vigodman, Teva also introduced 20 new generic products in the U.S. last year and four branded specialty drugs.
Mylan Skepticism
A look at Mylan's stock price suggests investors are skeptical Vigodman can overcome Mylan's reluctance and a poison pill put in place this month using Dutch securities law. Mylan shares traded at $76.06 on Friday in New York, 7.2 percent below the $82 a share Teva offered on April 21. They fell as much as 5 percent further in trading on Monday after Mylan released Coury's letter taking Vigodman to task.
Mylan, run from Pennsylvania but based in the Netherlands for tax purposes, took the unusual step of publicly spurning Teva even before an offer had been made. That means that if Vigodman wants to seal the deal, he will need to earn the support of Mylan's shareholders and board. Vigodman declined to be interviewed for this article.
Two to Dance
"It takes two to dance," said David Munno, head of drug research at Sphera Global Healthcare, a Teva shareholder. "It's unclear where this will go." Either way, "we give Vigodman credit for setting a very clear strategy," he said.
Teva's American depositary receipts jumped 13 percent in the 30 days leading up to the Mylan bid as speculation mounted that the company would undertake a major transaction. They were down 2.1 percent at $63.06 at 10:54 a.m. in New York.
Now, the question is how far Vigodman is willing to go to win over Mylan, said Ori Hershkovitz, founding partner and chief investment officer at Nexthera Capital, a New York-based hedge fund. While he is probably going to raise his bid, his past profession means he won't be afraid to walk away if the numbers don't work in his favor, according to Hershkovitz.
"Erez comes at this as the accountant with numbers in his head and he knows how much he's willing to pay," said Hershkovitz. "I don't think he's going to get nasty. He's going to do it in a charismatic way and try to convince Mylan's management and its shareholders that this is the best deal. It's going to be a gentleman's game of chicken."
Vigodman, born and raised in Tel Aviv, is more familiar with Teva's frugal, Kibbutz-inspired culture than his predecessor, Jeremy Levin, a native of South Africa who was educated at Cambridge University. Levin was ousted by the board in 2013.
Teva Personalities
Also, having been a director since 2009, Vigodman is familiar with the personalities involved, which include Galia Maor, the former CEO of Bank Leumi Le-Israel Ltd., the country's second-largest lender, and former Teva executive Amir Elstein.
Eli Hurvitz, who transformed Teva from a small Israeli company to a global pharmaceutical giant, picked Vigodman for the board, seeing him as a potential successor, according to his son Chaim Hurvitz, a former executive and director at the company. Chaim Hurvitz was among those who described Vigodman's style as "dugri."
"My father brought him to the board so he could learn the business," he said. "He had a good reputation for his strategic vision."
The senior Hurvitz, who died in 2011, approached Vigodman about the board job after he heard him praised by his friend Michael Strauss, the Strauss family patriarch.
Vigodman dug his heels in at Strauss when his plan to expand into Brazil ran into difficulties.
After he persuaded Strauss's board to enter a joint venture with São Miguel Holding, a family-owned company led by the Lima brothers in Brazil in 2005, the local currency tanked and the economy went into turmoil. Some investors blamed Vigodman for not looking closely at the risks. But he kept the board on his side and with time, the economy recovered and Strauss turned the company into Brazil's largest coffee producer.
"Many CEOs would have walked away from such a headache and said it's not worth it," said Ofra Strauss. "But he had this conviction. In the end it paid off."
Before it's here, it's on the Bloomberg Terminal.
LEARN MORE