Skiers' Joy Melts Into Summer Slump for Nordic Power Buyers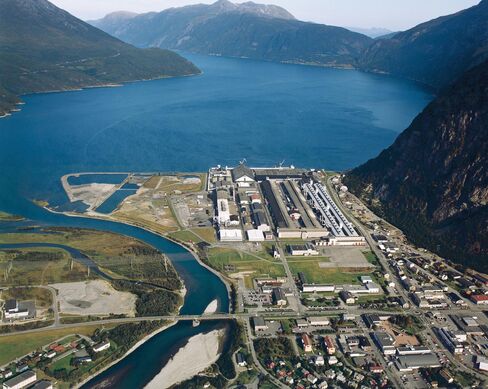 Norway and Sweden's snowiest winter in six years wasn't just a gift to skiers.
As rising temperatures melt the snow pack, it'll swell dams and rivers and spin turbines at the hydroelectric plants that provide more than half the region's power. Erik Bergstroem, a power manager at Scandem AB, says if the wet weather continues, prices will probably slump more than 50 percent in July to levels not seen for three years.
Coupled with last year's record growth in Swedish wind power, next month's seasonal thaw will widen a glut of electricity in the world's oldest market. The price slump is a bonus for energy intensive industries from aluminum smelter Norsk Hydro ASA to paper maker UPM-Kymmene Oyj, while Vattenfall AB and other generators are suffering from the lowest demand since 1986.
"I have been skiing myself in Norway and there is a lot of snow that will melt," Mattias Hellberg, a power trader at Shepherd Energy AB in Stockholm, said April 20 by phone. "It is very hard to handle and with some added wind power we will see very low spot prices."
Some mountainous parts of Norway still have as much as 3 meters (9.8 feet) of snow, according to the Norwegian Water Resources and Energy Directorate in Oslo. Norway's mountains held as much as 58 terawatt-hours of power stored as snow by the end of March, the agency said. That's 8 terawatt-hours more than a year earlier, or enough to power 1.6 million homes in the region for a year.
Futures Trading
The last time such wet forecasts materialized was in 2012, when July's day-ahead price averaged 13.70 euros ($14.72) per megawatt-hour, or the lowest in 12 years, according to Nord Pool Spot AS data on Bloomberg. Power prices have averaged 25.19 euros in April at auctions on the Oslo-based exchange.
July futures lost 18 percent since the start of the year to trade at 20.20 euros per megawatt-hour on Nasdaq OMX Group Inc.'s commodities market in Oslo. The front-quarter contract fell to its lowest since at least 2005 on April 22.
"With an addition of even more cheap wind power in the power system while there's no increase in demand, it's natural to mark down prices," Scandem's Bergstroem said.
Denmark, Norway and Sweden increased annual wind power output by 38 percent in the past two years to almost 27 terawatt-hours, government data shows. Sweden built an unprecedented 396 wind turbines with a combined capacity of 1,100 megawatts last year, according to lobby group Swedish Wind Energy in Stockholm.
Power Surplus
The growth in renewable energy coupled with a new 1,600-megawatt nuclear plant in Finland in 2018 will lead to a surplus of as much as 13 percent in 2020, according to SKM Market Predictor AS, a consultant. By then, Sweden will export as much as 20 percent of its power, the nation's energy agency forecasts. Supply exceeded demand by 3 percent last year.
Nordic power prices on Nasdaq OMX fell 60 percent since 2010, according to exchange data.
"When the general cost declines, we can sell more gas to our biggest customers" said Jens Marquardt, an energy manager at the Swedish unit of Linde AG, the world's largest industrial gas producer. "That's good for the industry in general. It gets cheaper power and cheaper gas and then it can compete with the rest of the world."
Electricity accounts for as much as 40 percent of production cost for steel, chemistry, pulp and paper manufacturers, according to SKGS, a Swedish lobby group for those industries.
Cost Benefit
"Lower Nordic electricity prices will make aluminum smelters become more competitive in the long term, as power represents a third of production costs," Halvor Molland, a Hydro spokesman, said Friday by phone from Oslo.
Stefan Sundman, a UPM spokesman in Helsinki, wasn't available for comment.
Power prices probably won't rise until 2020, Vattenfall's Chief Executive Officer Magnus Hall said in January. That outlook still holds, Peter Stedt, a company spokesman, said Monday. The Nordic region's biggest power producer lost 8.2 billion kronor ($950 million) last year and scrapped its dividend payment.
Nordic power for delivery in May rose by a record 5.3 percent on Monday amid a blast of cold weather and low wind conditions. As hydro resources stay frozen in the mountains, power production will be delayed until the spring thaw starts, Shepherd's Hellberg said by phone on Monday.
Before it's here, it's on the Bloomberg Terminal.
LEARN MORE