Porsche-Piech Clan Rift Sets Up Scramble to Fill VW Vacuum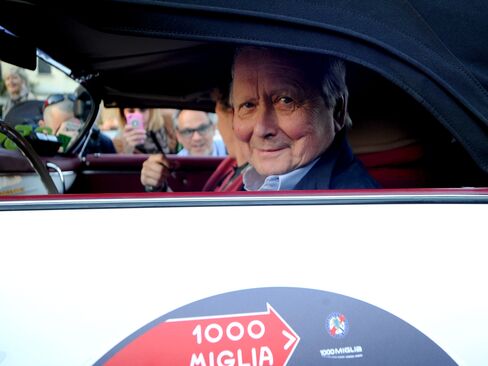 Ferdinand Piech's sudden resignation as chairman of Volkswagen AG revealed a rift within the billionaire Porsche-Piech clan that controls the carmaker, threatening to complicate the search for a successor.
Wolfgang Porsche, 71, chairman of the family's holding company, opposed his 78-year-old cousin's effort to oust Chief Executive Officer Martin Winterkorn. Both Wolfgang Porsche and Winterkorn are now in line to potentially replace Piech.
The chairman role is being filled temporarily by IG Metall union official Berthold Huber. With divisions in the Porsche-Piech clan, whose 50.7 percent holding of VW common stock is valued at about 13.7 billion euros ($14.9 billion), finding a candidate that's acceptable to labor leaders, its home state and shareholder Lower Saxony as well as factions within the family may be a struggle. And Piech still has sway.
"It remains to be seen how the dispute within the family pans out," Daniel Schwarz, a Frankfurt-based analyst at Commerzbank AG, said by phone. "Piech can still block some decisions."
In addition to Winterkorn and Wolfgang Porsche, a neutral candidate may also be Wolfgang Reitzle, chairman of German auto-parts maker Continental AG, newspaper Sueddeutsche Zeitung reported. VW's supervisory board is due to meet May 4, a day before its shareholders' meeting.
No Time Pressure
A decision on a successor won't be made by next week's gathering as the company's under no time pressure to act, Lower Saxony Prime Minister Stephan Weil said in an interview with newspaper NWZ published on Tuesday.
"The board and the management are totally capable of functioning," said Weil. "The board's executive committee plans to approach this calmly."
Piech remains a board member of the family's investment vehicle Porsche Automobil Holding SE. He can also exert influence within the family, which has agreements in place to vote as a bloc. That means he could hold up discussions on a successor, said a person familiar with the family's structure. None of the family representatives would comment on succession.
Piech's power stems from a holding of about 13 percent of Porsche SE common stock, said the person, who asked not to be identified because the details are private. If he seeks to sell those shares, he'd have to offer them to other family members first.
Great Loyalty
That would mean the clan -- which has about 35 members, including Piech's 12 children -- would have to come up with about 1.8 billion euros to buy him out, based on prices for Porsche SE's publicly traded, non-voting preferred shares. The family appears prepared to ensure there's no disruption in the shareholding structure.
"With great loyalty to the Volkswagen group and its 600,000 employees, we will continue to stand by our responsibility as principal shareholder," Wolfgang Porsche said in a statement issued by the holding company.
The Porsche-Piech clan, all descendants of VW Beetle creator Ferdinand Porsche, has weathered such disruptions in the past. In the 1980s, when Piech's older brother Ernst wanted to sell his shares to Arab investors, the families banded together to buy him out. Because of that, the Porsche part of the family owns slightly more than the Piech side. Still, loyalties between the members are not determined by last names.
Tearful Speech
In 2009, when Porsche SE's planned takeover of Volkswagen faltered because of ballooning debt, the families turned to Qatar to help bail them out, selling a 10 percent stake in Porsche SE's voting shares. The family repurchased that holding in 2013.
To seal such deals, the family often gathers in small villages along the Austrian-German border. Prior to buying back the Qatar stake, they met, for instance, in Mattsee, a small town near Salzburg where Ernst Piech opened an exhibition of Ferdinand Porsche's pioneering developments such as the first hybrid car.
Feuds have been part of such gatherings. In the early 1970s, there was so much dissent that that family decided to withdraw from operational positions at Porsche. That caused Piech to leave the company, where he had developed the legendary Porsche 917 race car, to start his career at Volkswagen by joining Audi in 1972.
Wolfgang Porsche and Ferdinand Piech ended up on opposite sides during the VW-Porsche takeover battle. Piech won that fight, and Volkswagen bought the Porsche sports-car brand as well as the families' Austrian car-dealership group. The spat between the cousins culminated in a tearful speech by Wolfgang to the makers of the 911 sports car on a rain-soaked day in Stuttgart, Germany, where he said goodbye to Porsche boss Wendelin Wiedeking, whom Piech had forced aside.
This time, Wolfgang, who runs a farm in the Austrian Alps, got the upper hand. But those tensions will still play out as the family grapples with the future of Volkswagen's leadership.
Before it's here, it's on the Bloomberg Terminal.
LEARN MORE