Polish Challenger Duda Pushes Tax Plan to Catch Komorowski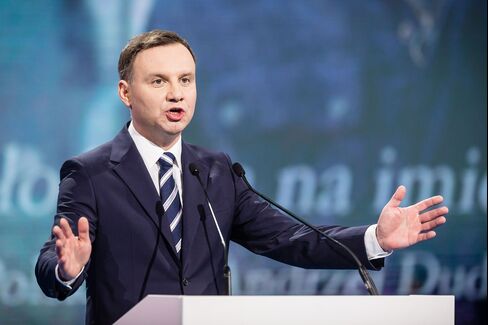 Andrzej Duda, the main challenger to Polish President Bronislaw Komorowski in a May 10 election, said he wants to cut taxes for individuals and small businesses.
To help cover the cost, the government should close tax loopholes, monitor how foreign companies repatriate profits and consider a levy on retail chains and assets held by financial institutions, Duda said in an April 24 interview in his hometown of Krakow.
The opposition Law & Justice party is betting that Duda, a 42-year-old European Parliament lawmaker, can tap discontent among Poles bypassed by the European Union's fastest economic growth. The proposals, which follow similar measures by Hungarian Prime Minister Viktor Orban, are designed to help overcome what the party's own polls show is an 11-point lead for Komorowski.
"I've been to the town squares and this is what I see: empty storefront after empty storefront," Duda said. "Three discount stores open on the outskirts and all the family businesses fail."
In a series of TV ads last month, Duda took aim at Komorowski's pledge to restart a debate on adopting the euro after a new parliament is elected this fall, emphasizing the potential effect on costs. According to an October 2014 survey by Warsaw-based polling company CBOS, 68 percent of Poles are against joining the euro area.
Duda's focus during the next two weeks will be on "social issues," according to Beata Szydlo, his party's campaign manager.
Taxes, Retirement
Among Duda's campaign pledges is to increase tax breaks for individuals, cancel a gradual increase in the minimum retirement age to 67, close tax loopholes and introduce breaks for companies that invest and create jobs.
While Duda says he's "generally against tax increases," he's considering "whether it might make sense to tax assets held by financial institutions." Any such measure would "require a very serious discussion with experts," he said.
Law & Justice last year called for taxes on financial institutions and retail chains to raise a combined 7 billion zloty ($1.9 billion) a year.
The proposals follow steps taken by Orban in part to fund a cut in personal income tax after he returned to power in 2010. The moves left Hungary's banking industry unprofitable and contributed to a drop in foreign-direct investment.
Poland's economic growth, which according to Eurostat is the EU's fastest at a cumulative 24 percent since 2007, has been overstated and is "insufficient" to benefit most of the country, Duda said.
Foreign Companies
"We should also consider that half of that output is produced by foreign companies, which unfortunately take advantage of the opportunities offered and transfer more than 70 billion zloty each year to their own countries," Duda said.
Foreign investors repatriated 9.6 billion euros ($10.5 billion) in dividends and interest in 2013, more than double the 4.1 billion euros they reinvested in Poland, according to central bank data.
Poland may need new tools "to monitor these flows and make sure they're legal," along with more incentives to reinvest instead of taking dividends, Duda said. "Right now, nothing is being done."
Foreign Policy
For Duda, the Polish government hasn't been "on the offensive enough" on foreign policy. Since it failed to submit "significant initiatives" within the EU, Poland's partners in the bloc "simply ignore" Polish interests, he said.
The criticism follows the naming of former Polish Prime Minister Donald Tusk to the post of EU president in September. Poland has also been one of the most vocal among the EU's ex-Communist states in accusing Russia of violating Ukraine's sovereignty. The EU is also working on a call from the Polish and other EU governments to create an energy union that would free the bloc from dependency on natural gas from Russia.
"If the idea is for us to meekly let others pursue their interests and put ours in second place, or what Donald Tusk referred to as swimming in the mainstream, then we're agreeing to a policy that's not really sovereign," Duda said.
Before it's here, it's on the Bloomberg Terminal.
LEARN MORE