Petrobras Fallout Pushes Even Untainted Borrowers Toward Default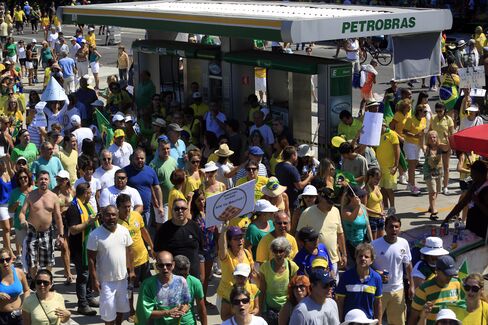 The bribery investigation at Petroleo Brasileiro SA has already pushed two companies implicated by the alleged graft into default.
Now, a cement producer untainted by the scandal -- but upended by its fallout -- risks joining their ranks, bond prices show.
Cimento Tupi SA's $185 million of bonds due 2018 have plummeted 70 percent this year as the construction industry is roiled by accusations that some builders paid bribes to Petrobras executives in return for contracts. At 27 cents on the dollar, the notes indicate bondholders are bracing for Tupi to miss its next interest payment due May 11, according to Galloway Gestora de Recursos and Bulltick LLC.
Tupi's case is emblematic of the collateral damage wrought by the investigation at a time when Brazil's economy is also floundering. Construction and engineering companies Galvao Engenharia SA and OAS SA have already missed debt payments and filed for bankruptcy protection after the allegations choked off their access to bond financing.
"We can definitely see a scenario of contagion in Brazil when it comes to construction companies and segments related to it," Patrik Kauffman, a money manager at Solitaire Aquila Ltd., said from Zurich.
Cesar Lage, Tupi's chief financial officer, didn't return telephone or e-mail messages seeking comment on the slump in its bonds and whether the company will make its debt payment.
'Very Restricted'
Rio de Janeiro-based Tupi had 9.4 million reais ($3.18 million) of cash and equivalents as of December, according to data from the company.
Fitch Ratings cut Tupi's rating to CCC, eight levels into junk, on March 20, citing the company's low cash levels.
"It's become a perfect storm with the credit scenario in Brazil following" the Petrobras probe, Jay Djemal, an analyst at Fitch, said from Chicago. "They're very restricted on their ability to refinance from a large number of sources."
Lending to the construction industry has dried up after Petrobras banned 27 contractors cited in the corruption investigation from bidding on government contracts.
Creditor Protection
Earlier this month, Grupo Schahin, which has operations in the construction, engineering and oil and gas industries, also sought creditor protection for 28 of its companies in Brazil.
The $651 million of bonds due 2022 and issued by one of its financial units have tumbled about 45 percent this year to 44.5 cents on the dollar.
Schahin, Galvao Engenharia and OAS have all denied the allegations against them.
At 71 percent, Tupi's bonds now yield 60.55 percentage points more than U.S. Treasuries -- well above the threshold for distressed securities, data compiled by Bloomberg show.
"The market is already telling the company what to do," which is restructure, Ulisses de Oliveira, a money manager from Galloway Gestora de Recursos in Sao Paulo, said in an e-mail.
Brazil's real advanced 1.2 percent to 2.9151 per U.S. dollar Monday as of 3:06 p.m. in New York, paring its decline this year to 9 percent.
Compounding the lack of financing for companies like Tupi is a contraction in Brazil's economy that is forecast to be the biggest in 25 years.
"This company can definitely be seen as another victim of the main problems Brazil is going through," Klaus Spielkamp, head of fixed-income sales at Bulltick LLC, said from Miami.
Before it's here, it's on the Bloomberg Terminal.
LEARN MORE